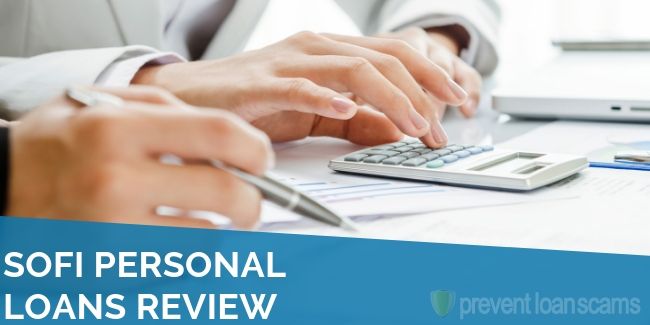 SoFi is an online lending platform that offers student loans, mortgages, and debt consolidation loans, as well as plain old installment products, such as their SoFi personal loans, to highly qualified buyers.
All of the underwriting and loan origination is performed online and loans are typically funded in seven business days.
What makes SoFi a bit different is their focus on qualified borrowers.
Because their pool of borrowers is higher on the credit spectrum than other loan companies, they are typically able to offer far better rates.
The company uses a mixture of credit checks, employment history and cash flow analysis to understand the risk a specific borrower poses.
About SoFi
SoFi, formerly known as Social Financial, is a startup online lending platform that originally got its start on the campus of Stanford University, and specifically, its business school.
Four alumni of the school got together to determine if there was a way to provide more affordable loans to students who were taking on debt to fund their education.
Quite unique among lending companies, the students approached a number of alumni who offered to lend up to $50,000 to students as part of a pilot to determine if their lending model worked.
It did, and by 2012, the company had announced several funding rounds and was attracting lots of interest from investment companies.
The company moved away from the alumni funding model as the business grew and, by focusing on highly qualified borrowers, they were able to attract lots of business and lots of funding.
The company now offers a variety of different loans. The most popular is still student loan refinancing, but the company also extends mortgages and personal loans.
We'll discuss personal loans specifically here.
How SoFi Personal Loans Work
SoFi operates a bit differently than your traditional financial institution.
They focus specifically on high-quality borrowers with good credit scores which means that their underwriting process tends to take a bit longer.
As a result, however, rates tend to be much lower than competitors and available funding tends to be higher.
The SoFi website leans toward being an internet-only company.
You could progress through the entire lending process without interacting with customer service at all.
How To Apply for a SoFi Pesonal Loan
You'll submit a normal credit application with the company.
This includes a whole host of information about income and expenses and what other loans you may have.
It also gives SoFi authorization to perform a soft credit inquiry.
You'll select how large you want your loan to be.
You'll also select the purpose you're seeking it for and your preferred term. From this, you'll be able to get a fairly accurate quote.
If you choose to accept the quote, SoFi will pull your credit, a hard inquiry this time, and begin the underwriting process.
SoFi takes a close look at your credit report and applies it to their underwriting model.
They'll also ask you for pay stubs to understand how stable your work is and how much you bring in each month.
Finally, they may ask for your checking or savings account statements.
This gives SoFi a good understanding of cash flow. It's this step that makes them different from competitors.
After this more intense underwriting is complete, SoFi will offer a variety of loan options from fixed to variable rate and term length.
After you make your selections, you wait. Loans are typically funded in seven days and money will be placed right into your account.
Fast Facts on SoFi Personal Loans
SoFi offers loans ranging from $5,000 to as large as $100,000 with fixed rates as low as 5.99% (as of 3/17/21) for superior borrowers.
SoFi offers loan terms that are typically two to seven years.
They award a quarter percentage point for auto draft of your loan payments.
SoFi offers both fixed rate and variable rate loans, which is different than other companies in the industry. Variable rates tend to start lower but can climb as high as 14.70% over the life of the loan. Fixed rates give you peace of mind.
SoFi doesn't charge late fees or overdraft fees, another oddity in the personal lending space.
They offer flexible repayment — you can easily slide your due date to fit your financial schedule.
SoFi offers unemployment protection — if you lose your job, the company will let you apply for forbearance, meaning you do not have to make payments for as long as 12 months. Interest still accrues on the loan. You are able to make interest-only payments to avoid it being tacked onto your principal. Note that this is only available to borrowers who lose their job through no fault of their own.
SoFi might be right for you if…
You are a highly qualified borrower. SoFi really only deals with individuals who have very good credit history, a stable, high income-earning job and a history of successfully handling other loans.
You have a good reason for a loan. SoFi generally will not lend to people for the purchase of things like boats or luxury items. SoFi specifically asks the purpose of the loan.
If you're looking to consolidate loans. The flexible payments and rates are generally better than rates and payments from other lenders.
SoFi might not be right for you if…
You've got poor credit. Here, we're talking about under 750. There are a variety of other companies, including Earnest, Avant, BadCreditLoans.com, RISE, and others that charge no fees and offer flexible payment options for those with lower or no credit. Note that rates will be higher to compensate.
You don't have a job. You need to be able to demonstrate that you can repay the loan for SoFi to consider your application. If you're looking for a loan to consolidate debt but you don't have employment, SoFi will likely reject your application.
SoFi is a great option for high-quality borrowers. The flexible payment plans, range of terms and online-only interface make it easier for appropriate borrowers to get access to the funds they need. Moreover, with SoFi's multifaceted loan products, from student to personal, the company can offer competitive rates no matter what your need is.