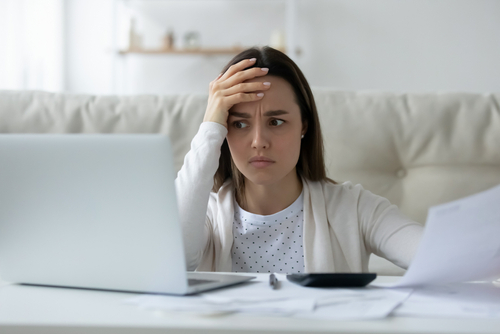 Has a collection account from a company known as United Revenue Corp appeared on your credit report?
Or have you been contacted by the company, either by phone or by written correspondence? If you have, you'll need to act fast.
A pattern of complaints against the company indicates they attempt to collect debts that are not fully verified.
That being the case, it's likely they will not be the most cooperative collection agency in the industry.
We cannot stress this enough, do not simply ignore this company. That's what many consumers do, especially when they don't believe the debt is legitimate.
But, whether it is or it isn't, ignoring it won't make it go away. In fact, a collection account can easily turn into a judgment if you ignore it.
And, if it does, United Revenue Corp will be able to garnish your wages and take other actions against you in pursuit of the full amount of the debt they claim you owe.
Don't let things get to that point. Either deal with them directly or engage the services of credit professionals.
About United Revenue Corp
United Revenue Corporation is based in Arlington, Texas, and was founded in 1983.
Though the company describes itself as an "accounts receivable management" service, they are in fact a collection agency.
Their website, which provides very little information describes the company as "on the cutting edge of technological advances in the collection industry."
Is United Revenue Corp Legit?
Most of what we can report about the company is derived from the Better Business Bureau, making this company in fact, a legit business.
The company has a Better Business Bureau rating of "F", the very lowest rating on a scale running from A+ to F.
The BBB explains the reasons for the rock-bottom rating as being 84 complaints filed against the business, with United Revenue Corp failing to respond to 61 of them.
In addition, they have "failed to resolve underlying causes of a pattern of complaints."
The BBB even includes the following alert about the company:
"According to BBB files, United Revenue Corporation has a pattern of disputes alleging billing and service issues. Consumers allege that United Revenue Corporation does not provide sufficient documentation to validate the debts reported on consumers' credit reports. United Revenue Corporation has not responded to the BBB's attempts to resolve their pattern of disputes. For more details regarding disputes received by the BBB, please visit the complaints tab of this business's BBB Business Profile."
That's the Better Business Bureau's summary of the pattern of complaints against them, which indicates that this will be a difficult collection agency to deal with on your own.
Before You Deal with United Revenue Corp
If you still want to attempt to deal with United Revenue Corp on your own, here are a few things to keep in mind before getting started:
1. No Communication by Phone
This is strongly recommended in dealing with any collection agency, but we suspect this applies even more so with United Revenue Corp.
Phone conversations with collection agencies don't usually go well; that's why they should be avoided.
First, be aware that collection agencies routinely record telephone conversations.
That puts you at an immediate disadvantage, since a recorded phone conversation is the equivalent of written evidence in a lawsuit.
And, rest assured, collection agents are highly skilled at getting consumers to surrender additional information and make promises to pay that they can't keep.
Either situation will strengthen the position of the collection agency, while weakening yours.
Second, collection agencies love phone calls because it creates the best opportunity to harass you.
They can call you repeatedly at home and at work, until you're afraid to pick up the phone.
Under federal law, you have the right to demand a collection agency contact you in writing only.
You should absolutely exercise that option with United Revenue Corp.
2. Communicate in Writing
Most of the disadvantages that come from phone contact with collection agencies are reversed with written correspondence.
It will provide an exact track record of everything United Revenue Corp says or discloses to you.
It will also limit the harassment that often comes with phone calls.
More important, it will prevent the collection agent from intimidating you into providing additional information or making promises to pay.
With written correspondence, you can make your own communications with United Revenue Corp concise.
The written correspondence gives you an opportunity to edit your communication in a way that you can't with a phone call.
You can write a letter to the company, review it, and if you determine any of the information it includes could be used against you, you can remove it before sending.
When you do send letters to them, be sure to do so by certified mail, return receipt requested.
That will give you both written evidence your correspondence was sent, and that it was received by the company.
Be sure to keep a copy of every letter you send to United Revenue Corp, preferably attached to the letter you are responding to from the company.
That will make it easier for you to track exactly what's going on, and can come in handy in a legal situation.
3. Never Promise To Pay
This is the most important rule in dealing with any collection agency, and it's a mistake a consumer is prone to make.
Especially with phone calls, you may be tempted to agree to make a payment to the agency just to get past the moment.
But, don't! It can work against you.
If you in any way indicate to a collection agency that you intend to send payment and fail to do so, it can be used as evidence against you in court.
Never make a promise to pay a collection agency any amount of money—either by phone or in writing—unless you have the funds available and fully intend to make the payment.
4. Know Your Rights Under Federal Law
The Fair Debt Collection Practices Act (FDCPA) provides consumers with certain protections from collection agency abuses.
You can learn these protections by reading the Debt Collection FAQs provided by the Federal Trade Commission (FTC).
Just knowing your rights under federal law may give you the upper hand when a collection agency starts getting ugly.
Get Professional Help
If you got this far, you can see, dealing with United Revenue Corp yourself can be overwhelming.
If you do not feel comfortable taking these matters into your own hands, we recommend working with a good credit repair company.
Dealing with any collection agency directly is a challenge for an average consumer.
A credit repair company can not only get your debt settled, but also minimize the damage to your credit report.
If you're concerned United Revenue Corp might take legal action against you, the best strategy is to hire a credit attorney.
In that case, Lexington Law is an excellent choice.
Specific Strategies for Getting United Revenue Corp Off Your Credit
Now, let's look at specific strategies you can use to get the collection account off of your credit report:
Demand Debt Validation Letter
By law, a collection agency is required to provide evidence of any debt they claim you owe.
To get the evidence, you'll need to demand that United Revenue Corp provide you with a debt validation letter.
The letter must provide the following information on the debt, including:
name of the original creditor
date the account went into collection
amount of the debt
information that clearly connects you to the debt owed
Under the law, at least, if a collection agency is unable to provide this letter, they should drop the claim against you.
But, that's not the way it always works in practice.
It seems to be a particular issue with United Revenue Corp, at least according to the BBB.
A company that will not validate a debt satisfactorily is probably not one you are able to deal with on your own.
You may want to consider getting professional help in dealing with them.
Request a Goodwill Deletion
If you had a debt in the past with United Revenue Corp that you paid in full, you may want to try this strategy.
It's not guaranteed to work, but it may be worth a try.
You start by sending United Revenue Corp a goodwill letter.
This is requesting that they delete the collection account from your credit reports as an act of goodwill.
In the letter, you'll need to remind them that the debt has been fully paid.
More important, you'll need to provide a credible explanation that the reason the collection happened in the first place was due to circumstances beyond your control.
Examples can include an extended time of unemployment, a divorce, the death of a loved one, or a major health event.
Your explanation needs to be credible, and it will be more effective if it's backed up by third-party documentation.
United Revenue Corp may or may not respond favorably to your goodwill request.
Offer a "Pay-for-Delete" Agreement
In this strategy, you'll send United Revenue Corp a pay-for-delete letter.
This is requesting they delete the collection account from your credit reports in exchange for full payment of the debt.
Since collection agencies are anxious to collect the full amount, they may agree to the arrangement.
But, understand that they are not legally required to honor this agreement, even if they confirm the agreement in writing.
Pay-for-delete is not a legally enforceable arrangement, so you won't have any recourse if they accept your payment, and then fail to delete the negative information.
Demand Deletion if United Revenue Corp Can't Verify the Debt
This seems to be a recurring problem with United Revenue Corp, but you may be able to use it to your advantage.
If they either provide incomplete information or fail to validate the debt entirely, you can:
demand they remove the collection account from your credit report and
cease further collection efforts
Once again, that doesn't mean United Revenue Corp will comply.
But, you will be able to use the missing or incomplete debt validation letter to dispute the collection with the three credit bureaus: Experian, Equifax, and TransUnion.
They're required to investigate your dispute within 30 days of receipt, and will similarly attempt to get a debt validation from United Revenue Corp.
If their experience with the company is the same as yours, they'll delete the collection accounts from your credit reports.
However, even if you're successful in having the accounts deleted through the credit bureaus, United Revenue Corp won't necessarily call off the hounds.
It may continue attempting to collect the debt. If so, we recommend getting professional help.
Settle the Debt
If United Revenue Corp validates your debt, you may be able to settle for less than the full amount owed.
The great news is, this will reduce the amount you'll need to pay to get United Revenue Corp out of your life.
On the flip side, it probably won't result in the collection account being deleted from your credit reports.
Send a letter to United Revenue Corp offering to settle the debt for 50% or less of the full amount due.
If they are willing to settle, they'll counteroffer with a higher amount.
Before sending any money, insist United Revenue Corp confirm your agreement in writing.
That includes acknowledging two things:
that they will accept the agreed-upon payment amount in full satisfaction of the entire debt and
that they will halt further collection efforts against you
They must also agree to report the account as paid with all three credit bureaus.
Send no money until this letter arrives. If you do, there's a real possibility they'll accept your reduced payment and continue to pursue you for the rest of the debt.
But, if you have the letter, you'll be able to go to the credit bureaus with it. You can even use it as evidence if you need to get legal representation against the company.