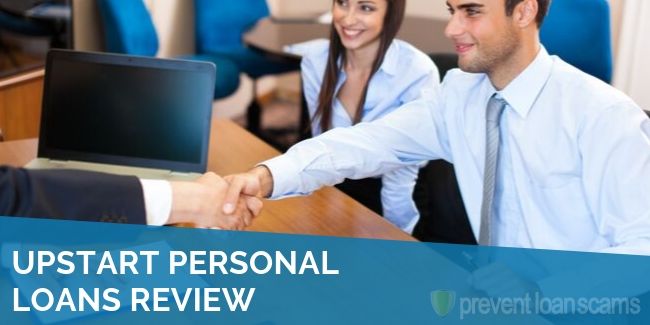 Founded in 2012 by ex-Google employees, Upstart Personal Loans focuses on fast approvals and automation, attempting to lower the price of offering loans to consumers. More than 60% of its approvals are entirely automated – more automation means less overhead.
Upstart uses artificial intelligence to reduce risk and provide credit where other financial institutions may not. To date, the company has originated more than $4.4 billion in loans with loss rates much lower than traditional lending options.
Let's take a look at what Upstart offers so you can whether it's right for you.
Personal Loans – What's the Difference?
Personal loans don't really tell us what type of product we're looking at here. A personal loan is simply a loan with no collateral attached.
What this means, in its simplest terms, is that a company is loaning you money for whatever your purposes are, and you agree to repay that money, with interest, over a predetermined period of time.
Simple as that. You can use the money for whatever you want, like to consolidate other debts, start a business or go on vacation.
How does Upstart Work? How do I Apply?
Upstart is a traditional personal loan company in the sense that they offer plain vanilla loans. However, they do things a bit differently. Their founders were former Google employees and really wanted to take lending to new heights using computer algorithms and artificial intelligence.
Because much of the system is automated, applying is very easy. You'll provide some basic details and register with the company to get your quote. Note that Upstart performs a soft credit check to provide you with the quote. This means that the inquiry won't affect your credit score.
Then, if you like the quote they have given you, you'll be prompted to enter your Social Security Number and other information for the official application. The company will run a hard credit check and you'll sign the paperwork. They generally deliver money to qualifying borrowers as early as the next day.
Upstart offers loans in 48 states with APRs ranging from 8.94% all the way up to 35.99%, from $1,000-$50,000. It does not offer loans in West Virginia or Iowa because of state laws, and other states may have higher minimums to comply with the law.
Who should get an Upstart Personal Loan?
It's important to understand Upstart's requirements before you try to get a loan with them. If you've got a credit score of at least 620, with no bankruptcies or delinquencies, you're likely a good fit for Upstart.
The company boasts a nearly 60% instant approval rate. They're highly automated, so they really focus their business on individuals who have great to excellent credit. If yours is spotty, you may want to look elsewhere.
If, however, you've got decent credit and need to fund a business venture, a vehicle repair or some home improvement projects, Upstart is a great option. Rates tend to be low, and, because the process is automated, getting money tends to be very easy.
What to Watch Out For
Obviously, the first thing you should do is shop around. There are a multitude of websites out there that will help you find the best rate for the loan you're looking for.
Many lenders specialize in specific types of loans or within specific credit tiers and may be better able to help you find what you're looking for. Be sure to shop around for rates, terms and amounts.
If you've decided on Upstart, make sure you watch out for the fees and penalties. While the loan products are good, Upstart tends to charge some of the highest fees and penalties in the industry.
This includes an origination fee between zero and eight percent, which is much higher than other lenders (Prosper, for example). This amount is actually deducted from the loan, as well, so if you are not prepared, you could be caught off guard.
Remember to request the amount you need, less fees. Additionally, Upstart charges a 5% past due fee and a $15 returned check fee.
People can overlook many of these fees, especially for a fast, easy process like Upstart offers. Additionally, there is no prepayment penalty, the hallmark of a quality loan product.
Overall, Upstart offers a quality personal loan product that offers credit to consumers in the higher credit score tiers. Be wary of the fees, including origination.
However, these fees can often be overlooked because of the speed with which the company funds their loans and the ease with which consumers can apply. As always, do your research to ensure that an Upstart loan is right for you.
Loan Comparison
| | | |
| --- | --- | --- |
| | Upstart | Similar Lender |
| Loan amounts | $1,000 to $50,000 | $1,000 to $40,000 |
| APR range | 8.94% to 35.99% APR | 6.95% to 35.89% APR |
| Origination fee | 0% to 8% | 1% to 6% |
| Minimum credit score | 620 | 600 |
| Time to funding | As soon as the next day | A week or longer |
| Soft credit check with application? | Yes | Yes |
(rates current as of 3/3/21