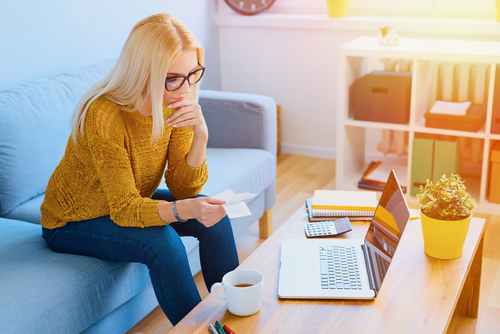 If USCB America has contacted you, it's likely they're attempting to collect on a healthcare-related debt.
They serve as an accounts receivable management company—and collection company—for hundreds of healthcare providers.
That may make them somewhat easier to deal with than other collection agencies who collect for different industries.
But, that doesn't mean you can take a collection account or a notification from USCB America lightly.
You'll need to work with them from the very first time you learn they are attempting to collect a debt.
About USCB America
Based in Los Angeles, USCB America was founded in 1915.
That makes it one of the oldest and longest-running collection agencies in America.
Though they describe themselves as a "receivables management company," they do function in a collection capacity.
They specialize in collecting unpaid accounts for healthcare organizations.
They claim to represent the largest healthcare systems, hospitals, physician groups, and teaching institutions across America.
That includes 250 hospitals in more than 25 states. The company also claims it dealt with 19 million people in 2019 alone.
Is USCB America Legit?
USCB America has a Better Business Bureau rating of "A", which is one of the highest ratings on a scale running from A+ to F.
The company had 154 complaints filed against it with the BBB in the past three years.
A quick scan shows they answered virtually all complaints and resolved close to half in the consumer's favor.
Before You Deal with USCB America
Before setting out to deal with USCB America, there are a few general rules you need to keep in mind:
1. Don't Deal With USCB America by Phone
If USCB America is attempting to collect a current or ongoing obligation you have with your healthcare provider, you may be able to work with them by phone.
At this stage of the process, the agent on the other end of the line is usually more friendly.
In some cases, they may even be able to direct you to a source of financial aid or some sort of hardship arrangement that may be offered by the healthcare provider.
But, if you're beyond that stage, and the exchanges are becoming more confrontational, you'll need to put a stop to the phone calls.
That's because phone calls work primarily to a collection agency's advantage—and against you.
Phone calls are used to harass you at home or at work.
They are also an opportunity to trap you into providing additional information or making a promise to pay funds you can't afford to make.
If that happens, you may be providing the collection agency with evidence that can be used against you in a lawsuit.
2. Communicate with USCB America In Writing
You have a legal right under federal law to insist that a collection agency contact you in writing only, and not by phone.
If your account with USCB America reaches collection status, this is exactly what you'll need to do.
Written communication will avoid the type of misunderstandings that happen with phone calls.
They'll also put an end to constant calls that collection agencies tend to use to get you to pay up.
Written communication will also enable you to track all agreements with USCB America.
And, just as important, you'll avoid providing additional information or making promises to pay that could hurt you in a lawsuit.
Make sure all your correspondence to the company is sent by certified mail, return receipt requested.
That will prove you sent the correspondence you claim you have, and provide evidence it was received.
Be sure to keep a copy of all relevant written communications, either sent by you or by USCB America.
You may need it if your account turns into legal action.
3. Never Promise To Pay
Consumers are often persuaded to promise to make payments to collection agencies, particularly during phone conversations.
But, if you either have no intention of actually making the payment, or you lack the funds to do so, making this kind of promise can bite you hard.
An unfulfilled promise to pay can be used against you in a lawsuit.
For that reason, never make a promise to send any money unless you have the funds to send, and you fully intend to send them.
4. Know Your Rights Under Federal Law
The Fair Debt Collection Practices Act (FDCPA) provides consumers with certain protections from collection agency abuses.
You can learn these protections by reading the Debt Collection FAQs provided by the Federal Trade Commission (FTC).
Just knowing your rights under federal law may give you the upper hand when a collection agency starts getting ugly.
Get Professional Help to Deal with USCB America
If at any time in the process of dealing with USCB America, you decide you want to "tag out," you can easily get professional help.
One of the best ways to do this is through a good credit repair company.
Credit repair companies can improve your credit, even if you have more than one collection account.
And, they may be more effective at negotiating a reduced settlement than you can be on your own.
But, if you're worried USCB America might take legal action against you, we recommend you consider working with a credit law firm like Lexington Law.
Steps To Get USCB America Off Your Credit
Now, let's look at specific strategies you need to use to get a collection off your credit report:
Demand Debt Validation
If you're working with USCB America to pay on an active account, this probably won't be necessary.
But, if they approache you about a collection account, federal law requires them to provide full verification of the debt.
You should request a debt validation letter from USCB America.
The letter must provide complete information on the debt, including:
the name of the original creditor
the date the account went into collection
the amount of the debt
information that clearly connects you to the obligation
If USCB America is unable to provide a debt validation letter, or if it comes back incomplete, you can legally dispute the obligation.
Required by federal law, the collection agency must remove the collection and terminate collection efforts against you if they don't have full evidence you owe the debt.
And, if they fail to remove a collection account from your credit report, you can open a dispute with the three credit bureaus.
The 3 credit bureaus must then investigate your claim within 30 days.
If USCB America is similarly unable to validate the debt, the credit bureaus will remove it from your credit report.
Request a Goodwill Deletion
Request a goodwill deletion if you previously had a collection account with USCB America, that has since been fully paid.
As a healthcare collection agency, they may be more open to this arrangement than most other collection agencies.
You'll do this by sending a goodwill letter to USCB America.
The letter will request they delete the collection account from your credit reports as an act of goodwill.
You'll not only need to remind them that the debt has been fully paid, but also the reason you landed in collection.
Fully explain what those circumstances were, and include any third-party documentation that proves your point.
If your letter succeeds in convincing USCB America your situation was a true hardship, they may delete the collection account from your credit reports.
Offer a "Pay-for-Delete" Agreement
If you know you really owe the debt USCB America claims you do, and your primary interest is to improve your credit score, you can try this strategy.
You'll send USCB America a pay-for-delete letter.
This letter will request they delete the collection account from your credit reports in exchange for full payment of the debt.
They may agree to the arrangement as a way to get full payment (because collection agencies frequently don't).
But be warned: pay-for-delete arrangements are not legally enforceable. USCB America could accept your payment, then fail to delete the collection account from your credit reports.
Settle the Debt for Less
Not all collection agencies will settle a debt for less than the full amount, but many will, and it's always worth trying.
Settling a debt for less than the full amount will enable you to save money on the debt payment.
But, it won't improve your credit report.
Even if the collection agency agrees to accept a lesser amount in full satisfaction of the debt, the collection account will continue to appear on your credit report.
However, a paid collection account will help your credit score at least a little bit.
You start the process by sending a letter to USCB America, requesting debt settlement. Offer 50% or less of the full amount as an initial offer.
If USCB America is open to a settlement, they'll counteroffer with a higher amount.
You may go back and forth several times until you both agree on a dollar amount.
Until all terms of the agreement are provided by USCB America in writing, send no money.
They'll need to confirm a couple of things in writing:
they're accepting the lower amount in full satisfaction of the entire debt, as well as
agreeing to end collection efforts against you and
report the account is paid on your credit reports
If you send money before you receive this letter, the collection agency may accept your payment but continue to pursue you for the balance of the debt.
The agreement must be made in writing, to be legally enforceable. That's what the letter from the collection agency will do.