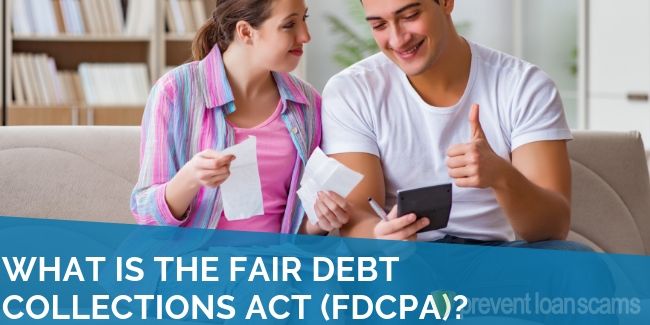 What is the Fair Debt Collection Practices Act (FDCPA) and what can debt collectors do? More importantly, what are they not allowed to do?
The FDCPA is designed to help and protect consumers who may end up behind on their debt obligations.
It closely regulates debt collectors and how they interact with you to attempt to collect a debt. This includes both first-party (i.e. your credit card or personal loan company) and third-party (i.e. debt collection agencies) collectors.
It's important even for borrowers who make on-time payments to understand their rights under the FDCPA.
Let's take a close look at a bit of history on the Fair Debt Collections Practices Act. We will look at what it means for you and what it means for debt collectors.
Where did the Fair Debt Collection Practices Act come from?
The FDCPA was passed and enacted in 1977 in order to curb abuses by the third-party debt collection industry. Before passage of the FDCPA, it wasn't uncommon for debt collectors to verbally harass and even physically assault consumers who had an outstanding debt.
This even happened to consumers who did not owe the debt in the first place. Mistaken identities and incorrect information were common, especially when debt service took place on paper.
Congress heard the outcry from both consumers and consumer advocates to take action. Several changes and amendments aimed at strengthening the 1977 Act have been taken since its original passage, but the protections remain relatively unchanged.
Key provisions of the Fair Debt Collection Practices Act
The law as passed, on a high level, does several things. First, it specifically dictates how debt collectors can contact you. It also bars the use of excessive phone calls, abusive language or threats of violence.
Second, to allows you to request proof. That proof would show that you actually owe the amount of money the debt collector says you owe.
Third, it prohibits the debt collector from letting others know about the debt. Next, it bans contact with consumers at certain times.
And finally, if they violate the law, consumers are able to sue debt collectors. They can sue them both individually and collectively in a class action suit.
As you can see, the Fair Debt Collection Practices Act is quite strong. Let's take a look at each of these guidelines, you can also review the FDCPA at FTC.gov.
First Contact
The FDCPA requires debt collectors to inform consumers that they are attempting to collect a debt. They need to let the consumer know that they have rights under the law.
There are a number of key factors that the collector must inform the consumer of. Those must take place at the first contact or immediately following the first contact:
The amount of the debt attempting to be collected.
The name of the collector itself.
That the consumer has the right to dispute the debt and if the consumer does not do so within 30 days, it will be considered valid. And,
That the consumer can ask for a verification of the debt.
We have a few key things to point out here. It may seem silly to require collectors to include their business name. However, it was incredibly common before passage of the FDCPA that collectors had obscure contact information. They did that to prohibit consumers from filing disputes.
Additionally, the amount of the debt is important. That is because it may be different than your records, considering fees and interest.
Disputing the Debt
You have the right to dispute a debt you don't believe that you owe. This is a critically important tool that the FDCPA guaranteed to consumers.
The first step is to inform the debt collector that you'll be disputing the debt and request a written debt verification letter. Collectors have an indefinite amount of time to validate the debt, but collection calls and letters must stop while the debt is being verified.
The verification letter should include a whole host of information, including:
Name and contact information for the original creditor. This doesn't mean the collector currently trying to get the debt from you, but the first creditor with whom you did business. An example of this would be the credit card company whose product you used.
The collector should also include why they believe you owe the debt, i.e. you made purchases on a credit card, stopped paying, etc.
All recorded owners of the debt.
The amount of the debt and the date at which it was first incurred.
Finally, the letter should include the authority under which the collector is attempting to collect.
If you do not receive a letter that meets these criteria, consider sending a follow-up letter asking after it. The Consumer Financial Protection Bureau (CFPB) and our website (PreventLoanScams.org) have a whole host of samples available to you.
Harassment, Abuse and Misrepresentations
One of the most important things that the FDCPA did is to establish strict guidelines on how debt collectors interact with consumers. They may not make or send repeated phone calls, text messages or emails.
Additionally, debt collectors may not post on your social media accounts, contact family members or publish lists of outstanding debts online in order to shame consumers. Additionally, during the initial phase of communications, debt collectors are not permitted to contact your place of work.
Note that not all phone calls are harassment. Additionally, if debt collectors are unable to get in contact with you, they are able to seek a court order and garnish your wages.
That means your employer will become aware of the debt. This is why it is important to take calls from debt collectors but understand your rights.
Collectors may not show up at your home or place of work and cannot claim to be attorneys or credit reporting agencies. They also cannot threaten prosecution or jail time.
If debt collectors do any of these things, you should send a cease communication letter informing the company that they have violated federal law and contact the CFPB as well as your local state attorney general.
Penalties
There's good news for you. If you feel a debt collector has violated the FDCPA and you are successful in a court case to that end, you may win damages. In addition to the court wiping your debt, you could realize some damages for your trouble, in some cases up to $500,000 or 1 percent of the net worth of the debt collector.
A Note on In-House Collections
Larger financial institutions will often do their own debt collection. The FDCPA does not apply to companies that do their own collections because Congress felt that these companies had a personal interest in the collection of the debt.
This means that they can be much more aggressive. In practice, if you're simply a few payments behind, financial institutions will often want to work with you before they bring the collection department on board.
Understanding your rights under the Fair Debt Collection Practices Act can help you ensure that collectors treat you fairly. Ideally, however, you'll work with financial institutions before you get to this point.
Financial institutions are generally more interested in working with consumers than having to resort to the use of a debt collection company. Working with your bank to resolve a debt can be good for both you and the bank.