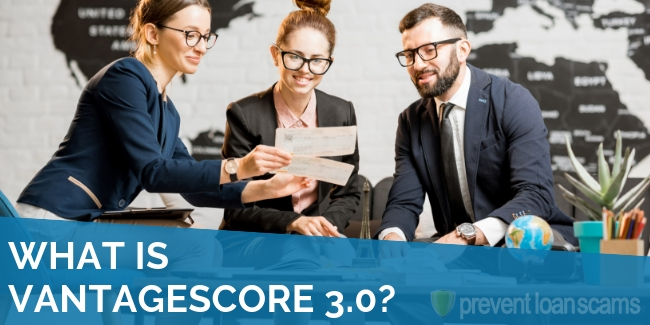 There are a lot of acronyms when it comes to credit reports and scores, and answering what VantageScore 3.0 is seems like an extraordinarily complicated question.
Luckily, it's not. Credit reporting agencies like TransUnion, Equifax and Experian gather payment and credit data from furnishers and, applying an algorithm, produce your credit report and credit score.
Credit reports and scores help lenders determine your creditworthiness, how likely you are to repay a loan, and what taking that debt on should cost you (i.e. the interest rate).
This is helpful for you as well because lenders can ensure a product is a correct fit for your financial situation.

We researched & reviewed the best 
credit repair
companies. They can help you dispute inaccurate items on your report & work towards improving your credit score.
About VantageScore 3.0
FICO is similar to a credit score, created by the Fair Isaac Company. It measures your creditworthiness slightly differently.
The score itself is based on the information already contained in your credit report but uses that information in a different way to produce a score.
It is traditionally used in a variety of financial transactions to measure creditworthiness and has been the gold standard in the mortgage industry since its inception in 1989.
FICO, however, is separate and distinct from the three credit bureaus.
It uses information from each of the bureaus' reports, but the algorithm applied to the information is distinct.
In short, FICO makes the money, not the credit bureaus.
FICO scores, however, are extremely common and highly successful. In 2006, the three credit bureaus, wanting to compete in the space of these types of credit scores, joined forces to create VantageScore, the third iteration of which is now out.
Right, But What is it Compared to the Other Scores?
This can get a bit confusing, so it's worth explaining.
TransUnion, Equifax, and Experian produce a credit report and score based upon what furnishers provide to them.
For example, your credit card company informs TransUnion that you are 60 days late on your payment.
The bureau puts this information on your credit report and when the score is calculated, it is taken into account.
Information comes into the bureau from the field and is inputted directly.
FICO and VantageScore both work differently.
They do not collect information, but instead, apply proprietary algorithms to the reports and scores that have been gathered by the bureaus.
All credit reports take into account different factors in different ways. Let's look at a comparison of VantageScore and FICO, by way of example.
VantageScore vs FICO
Credit factor
VantageScore 3.0
VantageScore 4.0
FICO
®
Score 8
FICO
®
Score 9
Utilization rate
Very important
Very important
Very important
Very important
Historical utilization rate and payment info (trended data)
No impact
May affect your score
No impact
No impact
Collection accounts
Ignores paid collection accounts
Ignores paid collection accounts

Ignores medical collection accounts that are less than six months old

Weighs unpaid medical collection accounts less than other types of collection accounts

Ignores small-dollar "nuisance" accounts that had an original balance of less than $100

Treats medical collection accounts, including those with a zero balance, like other collection accounts

Ignores paid collection accounts

Weighs unpaid medical collections less than other types of collection accounts

A tax lien or judgment
Can have a significant impact
Are less important than before, but can still have a significant impact
Can have a significant impact
Can have a significant impact
You can see that the new VantageScore 4.0 is different from it's counterpart and even it's 3.0 predecessor.
Medical debt is a great example showing the differences between these two products.
The newer version of both FICO and VantageScore almost entirely discount medical debt.
Consumer research found that the presence of medical debt was not a reliable indicator of creditworthiness.
People are going to get the medical care they need whether they pay for it or not. Finances are, for the most part, not generally a consideration.
What Makes VantageScore 3.0 Unique?
Starting with VantageScore 4.0, trended data can be included to give lenders are more accurate look at your creditworthiness.
Previously, credit reports only took a snapshot of your credit as it existed at the moment it was taken.
VS 4.0 claims that it included historical data, giving a clearer picture of the borrower.
How Does VantageScore 3.0 Affect Me?
Pretty well! More accurate algorithms like FICO and VantageScore allow lenders to hone closer to the real practices of consumers.
This means that you may be able to access credit that otherwise would not have been open to you.
Additionally, the cost of that credit may go down because lenders can get a more accurate picture of your repayment history.
Five different companies doing similar work can make things difficult.
However, understand that each is applying your credit report information in a different way.
It's important to take a look at your VantageScore as well as your regular credit reports to ensure they are correct.