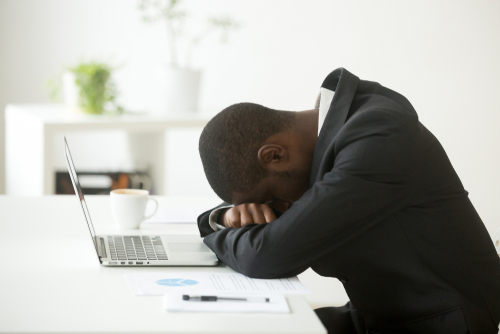 If you've missed payments on an auto loan with Wilshire Consumer Credit, you will begin to hear from their collections team.
Not only are they annoying, but they can also become an issue for your credit health.
They will file a collection account on your credit report that will stay on your record for as long as seven years.
Between their harassing phone calls and threatening letters, you are probably looking for a way to stop their advances.
Luckily, there are a few steps you can take to make that happen.
About Wilshire Consumer Credit
Originally founded in 1988, Wilshire Consumer Credit is a small auto financing company that is based in Los Angeles.
They are owned by Westlake Services, LLC, which is a larger auto financing company out of California.
As the subsidiary, its annual revenue is less than that of its parent company.
They report a yearly revenue of $4.2 million, and Westlake Services LLC's yearly revenue is about $61.5 million.
As far as a business model, Wilshire Consumer Credit is not the typical debt collection company that we typically write about.
Instead, they provide auto loans to people looking to buy a car.
They also have an auto equity loan program that allows customers to offer their owned cars for collateral on loans up to $50,000.
If you are overwhelmed by dealing with negative entries on your credit report,
we suggest you ask a professional credit repair company for help.
Does Wilshire Consumer Credit Have Any Complaints?
Yes, Wilshire Consumer Credit has had customers file complaints against them. There are currently 32 complaints with the Better Business Bureau (BBB).
Additionally, they have been named as defendants in 10 cases of civil litigation.
Historically, they and their parent company have not had pleasant collections interactions with their customers.
In fact, they have been involved in a relatively serious CFPB investigation.
In 2015, the Consumer Financial Protection Bureau (CFPB) enforced reprimanding action against Wilshire Consumer Credit and Westlake Services LLC.
They conducted an investigation into the collection tactics of both companies and found that both employed deceptive and aggressive business practices.
Wilshire Consumer Credit's collection tactics included:
misrepresenting their identity on phone calls
making false threats of prosecution
disclosing debt information to friends, family, and employers
If you are subject to any of the above practices when communicating with them, do not hesitate to contact the CFPB.
These efforts are illegal under the Fair Debt Collections Practices Act (FDCPA) and may result in financial compensation.
How to Deal with Wilshire Consumer Credit
These are the basic steps to deal with them, stop their calls and get the collection removed from your credit report:
Request Debt Validation
One of the easiest ways to get Wilshire Consumer Credit to stop calling you is to have their collection account removed due to inaccurate reporting.
But how do you know if they actually are reporting inaccurate information?
According to the FDCPA, you are allowed to ask them to send you proof that the debt is actually yours and that they are allowed to collect it.
This is known as debt validation and allows you to ensure that you aren't being scammed by a debt collector.
If they are unable to provide validation or is reporting any inaccurate information, they are required to remove their account from your credit report and stop any collection attempts.
This means that your credit will improve, and you won't have to pay the debt at all.
So, what's the catch? You only have 30 days from the time you first hear from Wilshire Consumer Credit to request validation.
If you procrastinate, your request will be ignored.
To request validation from them, start by crafting a debt validation letter.
After you write your letter, stick it in the mail and ask for a return receipt from the carrier.
This will notify you when they get your letter in the mail, meaning you'll know if they are ignoring your request.
Wilshire Consumer Credit will come back with various documents that are meant to prove that you owe the debt.
Go through each document carefully and look for any information that is wrong or even out of date.
If you find anything that doesn't match with your own details of the debt, you can submit a dispute with the major credit bureaus.
They will examine your allegations and delete the entry if it is determined to be erroneous or imprecise.
Negotiate a Settlement with Wilshire
Procrastination gets the best of all of us sometimes.
If you missed your window to request debt validation, your next best bet is to negotiate a settlement with Wilshire Consumer Credit.
Negotiating a settlement is easier said than done.
Debt collectors are hesitant to agree to pay-for-delete settlements because it involves altering an official credit record.
While not illegal, it is a frowned-upon practice within the industry.
That being said, it is not impossible to secure a pay-for-delete agreement.
If they are desperate enough for your payment, they will agree to almost anything. Just so long as you pay up.
To kick off negotiations, offer to pay a portion of your debt balance in exchange for Wilshire Consumer Credit to remove their account from your credit report.
They will likely rebuff this, so come back with another offer that is slightly higher. Rinse and repeat until you reach an amount that they feel is enough to justify a deletion.
Before you pay a cent of your balance, tell Wilshire Consumer Credit to send you a written agreement on one of their official letterheads.
This will act as physical proof that an agreement is in place. Hopefully, you won't need to break it out, but it is good to have just in case.
Once you receive this document, then make your first payment. They should contact the credit repair companies and remove their account within a month of your payment.
Contact a Credit Repair Company
Like we said, it's easier said than done to negotiate a deletion on your own. That's why it may be better for you to turn to a credit repair company.
Credit repair companies are great resources for people that aren't confident that they can deal with Wilshire Consumer Credit on their own.
They will handle all the communications so that you can focus on other aspects of your life.
It's critical to work with a credit repair company with a good reputation. After all, you want to make sure you get your money's worth.
I recommend Lexington Law to those looking for someone to deal with your debt behind the scenes.
They have a stellar track record and an excellent customer service team to help your deal with Wilshire Consumer Credit once and for all.
Wilshire Consumer Credit Contact Information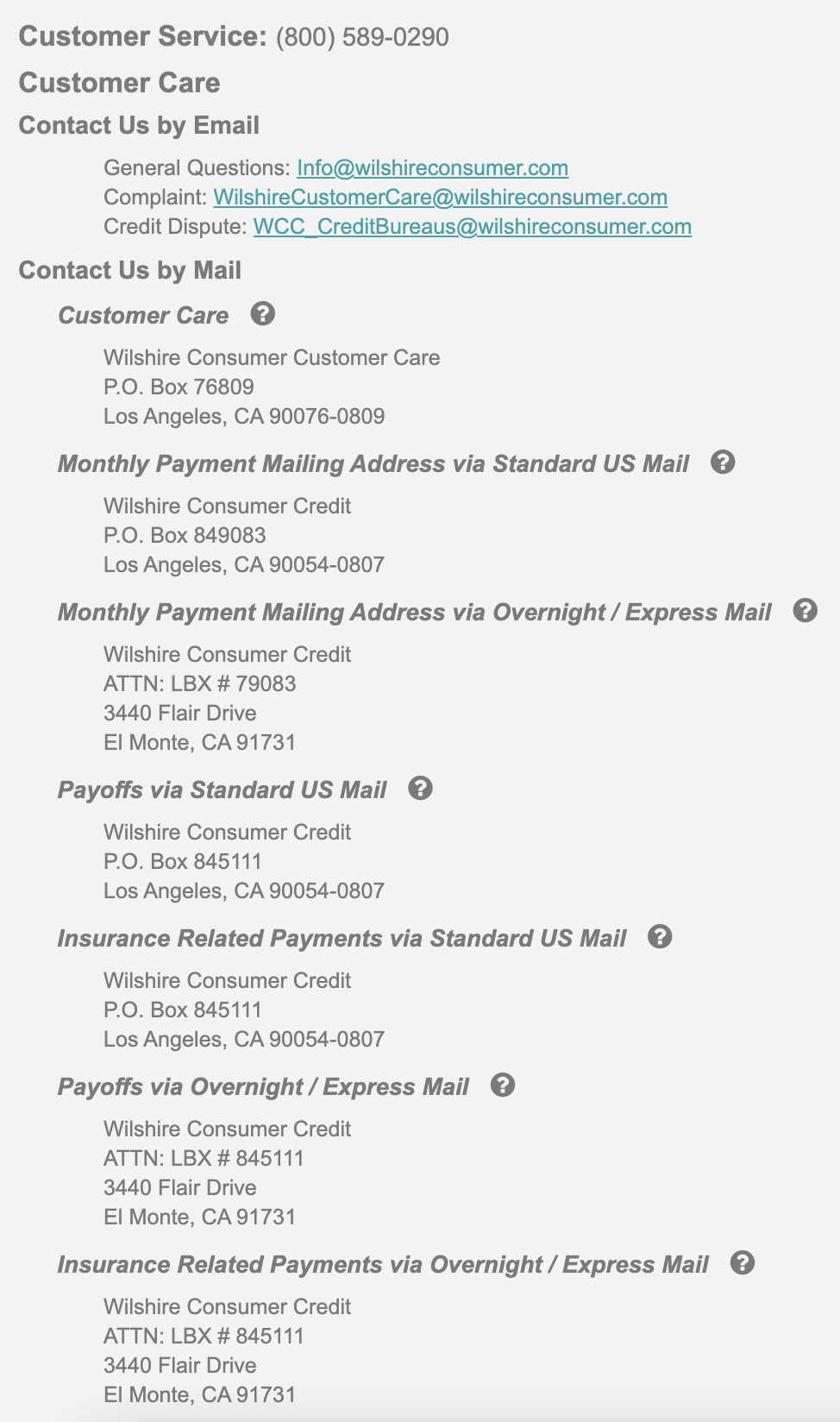 Conclusion
Wilshire Consumer Credit is a difficult company to deal with, but it's better to deal with them earlier rather than later.
If you follow the steps above, you should have success in stopping their calls and improving your credit.
Do you have any top tips on dealing with Wilshire Consumer Credit? Let us know in the comments section below!