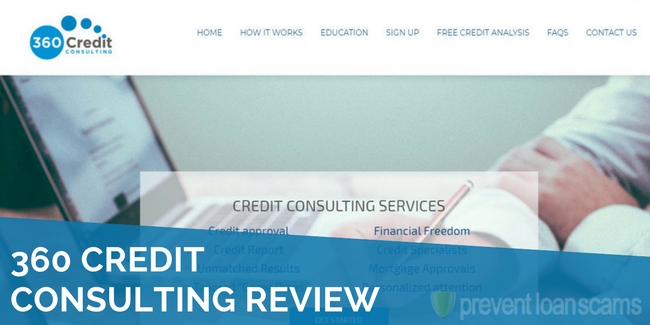 Our 360 Credit Consulting review dives deep into the reasons for (and potentially against) hiring the firm for your credit repair service needs.
Bad credit history can affect numerous aspects of your life from utility bills to student loan interest rates.
We understand good credit scores equal more financial success overall.
Industry experts agree that when it comes to credit repair, many agencies can't do anything for you that you can't do yourself (see: how to repair your own credit).
Some research suggests that more people are realizing this and it's hurting the credit repair industry, but there are still many solid credit repair agencies out there.
They may be one of these agencies. The company has two offices and has been operating as a small business for seven years. But despite the testimonials and industry recognition, they have practically no reviews online.
Here's what we were able to find out about this small business and its position in an industry with a bad reputation.
What We Like About 360 Credit Consulting
Based on their website it's clear that 360 Credit Consulting tries to emphasize providing information and education to help their customers with collection practices, credit reporting, credit monitoring, and personal finance.
They're right about education and information being essential to empowering consumers. It's important for consumers to know their rights, as indicated by the FTC.
Here's what we like.
Pro #1: Educational Resources & the Company Blog
360 Credit Consulting posts extensive information on credit best practices on their website, with few advertisements for their own services.
The information posted on their company blog is also detailed and helpful and answers common questions site visitors might have, like how to improve your credit score quickly.
Pro #2: 'A+' Rating with the BBB
Even though they don't have accreditation with the Better Business Bureau (BBB), 360 Credit Consulting has an 'A+' rating with the agency and 8 reviews, as of the last update to this article (June 30, 2019). However, they also had three complaints with the BBB. Some people may swear by Lexington Law, however, 360 Credit Consulting is just as competitive with positive reviews, especially with their free services, in particular, their free credit repair services.
Pro #3: Simple Fee Structure
There's only one account structure with 360 Credit Consulting, which makes it easy for customers to know what they're paying for.
The company also says that canceling is easy. There are no fees for canceling the service, and no contracts.
Pro #4: Serve Customers Across the U.S.
360 Credit Consulting has two locations: one in Colorado and another in Texas. However, their online presence and reviews suggest they can help customers located across the United States.
The firm has a partner network across the United States. If customers in states outside the firm's network need help, they can provide referrals.
What We Don't Like About 360 Credit Consulting
Unfortunately, we found a fair amount of information not to like about 360 Credit Consulting. One minor thing, off the top: the similarity in name with another credit repair company, Credit 360 Consulting.
Aside from this, it looks like the company has some practices that can put them on the wrong side of consumer laws when it comes to credit repair.
Con #1: Charging Enrollment Fees Before Completing any Work
360 Credit Consulting allows potential customers to purchase enrollment online.
Accepting payment without completing any services is strictly in violation of the Credit Repair Organizations Act.
They're not explicitly demanding payment, but we would require some more information before letting this one pass without comment.
Con #2: Sign Up and Pay Process is Too Simple
Considering that the enrollment for these services is almost $90, and customers agree to be charged monthly once they enter their personal information like their credit card information, there should be more steps before people choose to sign up with 360 Credit Consulting.
Anyone with a credit card can sign up, even customers who might not be the best fit. Making enrollment so simple suggests the company might only care about getting money first, not helping customers.
Con #3: No Information on What Happens after Enrolling Online
We didn't complete the enrollment process online, but at the time we wrote this article, we could have signed up for an account without anyone at the company contact us for at least a day.
Before enrolling, there should be more information for potential customers on what to expect after they sign up. This should include what happens if they sign up on a Friday night or weekend (when the office is closed).
We also were not clear on if customers still get a 'free' consultation if they enroll before talking to anyone at the company.
Con #4: Lack of Company Information
What we've heard from representatives at other credit repair agencies is true: the industry does not have the best reputation.
In light of this, we found the lack of company information on them to be concerning.
They have two offices, but it wasn't clear if customers could visit the offices. We didn't find any company hours, no information about the owner and CEO, or why they started the company seven years ago.
Customer Reviews
Even though the company has been around for seven years, there aren't many reviews about the company online.
The company's BBB profile has eight negative reviews and three complaints.
Out of the eight reviews posted with the BBB, it looks like there has been some confusion with the company's process to cancel and general communication.
Two people left complaints with the BBB to which the company responded. One complaint said:
"The communication has been very minimal as far as what is being done to repair or any update."
After going back and forth via the BBB, the company gave this customer a refund on two months of service.
Reviews left on Facebook, Yelp and Google were not substantial enough to garner any valuable information.
When To Use 360 Credit Consulting
Based on their site, the best time to use the agency may be after going through life situations that might affect your credit negatively (like a divorce or losing a job).
You may also want to contact them if you're new to the country or don't have any credit history. On their site, they say they can help customers open new accounts and figure out what strategy would be best for building your history.
Past clients have also reached out to 360 Credit Consulting if they have had issues with identity theft, or family issues with credit, or have had trouble with being approved for loans.
However, there are no specific circumstances that would be a reason to use 360 Credit Consulting over any other credit repair agency. If you're considering the company, also consider doing your own credit repair.
What Can Be Removed From Your Credit?
One of their company videos says 360 Credit Consulting can help customers remove the following inaccuracies & negative items from their credit reports:
Here's the video:
Even though this is what they say they can help customers with, it doesn't mean that they can always remove these accounts from all credit reports.
In general, they say they can remove errors on credit reports. The FTC also points out that this is the only type of information that can be legally removed from reports. 360 Credit Consulting is not a law firm and cannot provide legal services in regard to your credit report.
Even though you may want negative but accurate information removed from your report, it isn't always legally possible.
How Do They Work to Repair My Credit?
Prior to enrolling with 360 Credit Consulting, you would have had a free consultation with a personal credit specialist.
This consultation is to analyze your credit report and come up with a plan of action to achieve what you are disputing or wanting to change to result in a score increase.
After enrollment, one of their personal credit specialist gets to work "right away" to help eliminate your bad credit.
This first step involves demanding credit bureaus 'validate and verify' the 'potentially erroneous' reported accounts on your credit report.
The specialists act as "official requestors" between you and the credit bureaus (Equifax, Transunion, and Experian) and ask for validation on anything that might be wrong on your report.
360 Credit Consulting says that specialists take care of all 'disputes, paperwork, dispute letters, and follow-up on your behalf', so you don't have to worry about contacting debt collectors yourself.
How Much Does it Cost?
The cost to use 360 Credit Consulting is unclear.
However, it does say on their FAQs page that the prices vary from state to state, but most customers pay $99.99 per month.
The company also offers a free credit analysis that you can complete before enrolling for services.
There is no contract for their services, but customers generally see results in 30 to 60 days (according to the FAQs on their site).
While these results are probably not typical, customers could end up spending a minimum of $149.98 while enrolled with 360 Credit Consulting.
What Can I Expect When Signing Up for 360 Credit Consulting?
They have a very simple sign-up process. Enrollment starts with completing an online form. The process is very similar to purchasing an item on Amazon or other online retailers.
You can add an enrollment purchase to your cart by clicking on one of the 'Get Started' buttons on the site.
Once on the checkout page, potential customers can fill out a form with their personal and billing information to set up the account.
After you finish the enrollment process, 360 Credit Consulting says a personal credit specialist will start working on the customer's file. The company doesn't provide any information on what happens after the signup process.
If you already have your credit report, you can contact a personal credit specialist for free credit analysis.
During this consultation, the specialist will provide you with a recommendation on what they can help with, an estimate on how long the program should take, and analysis of the credit report.
What Results Can I Expect?
There isn't much information on the website for 360 Credit Consulting, nor are there many reviews that would suggest what results in previous customers have had with the company.
Their 'How to Fix Credit' video (embedded below) suggests that they can help customers 'clean up' their credit, but they don't actually explain what that means.
The reviews posted on their own website are overwhelmingly positive, and all suggest they can achieve the best results for all customers.
Who Is 360 Credit Consulting?
360 Credit Consulting is a small business based out of Broomfield, Colorado. They specialize in credit repair, correction, restoration, and education.
As part of their services, they provide 'information and education' so that their customers can take control of their financial future.
A large part of their business is working with mortgage professionals and realtors to help consumers with qualifying for loans.
The company employs 'FICO professionals' to work on helping customers reach their goals and clean up their credit.
Who Owns 360 Credit Consulting?
360 Credit Consulting was started in 2010 by Alan Harrington, who still heads the company from its headquarters in Colorado.
Alan runs the small company with two main offices.
Where Is 360 Credit Consulting Located?
360 Credit Consulting has two locations: one in Broomfield, Colorado, and the other in Austin, Texas.
Based on reviews they've posted on their site, 360 Credit Consulting also serves customers outside of those two areas.
Frequently Asked Questions
Does 360 Credit Consulting offer a guarantee?
It does not appear that 360 Credit Consulting offers any guarantees for their service.
One reviewer who left a complaint with the BBB seemed to think the company offered a '200% refund', but Credit 360 Consulting actually offers that guarantee, which is another credit repair company with a very similar name.
Be careful to completely research the company before moving forward with enrolling. If a guarantee is important to you, consider looking at other companies that clearly back up their services.
Can deleted items reappear on my credit report after my credit is repaired by 360 Credit Consulting?
If you delete a legitimate (or, sometimes even an inaccurate) account from your credit report, it may reappear. This is true regardless of whether you do your own credit repair or hire an agency like 360 Credit Consulting to work on your credit report.
If you submit a dispute to a creditor, they have thirty days to verify the account. The account will disappear from the report after 30 days.
This at first can look like the account is deleted, but usually, creditors send accounts to bureaus every 30 days. Then, the account is re-added to the report. To a consumer that doesn't know what's happening, it looks like a deleted item 'reappeared'.
If you're working with an agency or doing your own credit repair, make sure you know what's happening with your report. If an item does reappear it might mean that you have to submit the dispute again. Or, it could mean that they found the item accurate.
How Long Does 360 Credit Consulting Take to Repair Your Credit?
360 Credit Consulting says they cannot offer any guarantees on how long it will take for them to repair your credit if you enroll.
They also say that their clients usually see 'drastic improvement within 30 to 60 days'.
However, completely repairing credit could take substantially longer, depending on the state of your current report and your goals.
Is There a Couples, Family or Active Military Discount?
It doesn't look like 360 Credit Consulting offers any discounts for couples, family, friends, or active military.
The only perk available with this agency is a free consultation.
Consider asking the company for a discount if you're focused on working with 360 Credit Consulting on your credit repair.
What Are 360 Credit Consulting's Hours?
Their Yelp profile says their offices are open during regular business hours:
Monday 9:00 a.m. to 5:00 p.m.
Tuesday 9:00 a.m. to 5:00 p.m.
Wednesday 9:00 a.m. to 5:00 p.m.
Thursday 9:00 a.m. to 5:00 p.m.
Friday 9:00 a.m. to 5:00 p.m.
Saturday CLOSED
Sunday CLOSED
What is 360 Credit Consulting's Phone Number?
Toll Free: 1 877-487-4898
How do I cancel a 360 Credit Consulting membership?
Contact your personal credit specialist by email and phone to find out about canceling your membership with 360 Credit Consulting. We recommend calling and emailing so there's a record of when you contacted the agency to end your service.