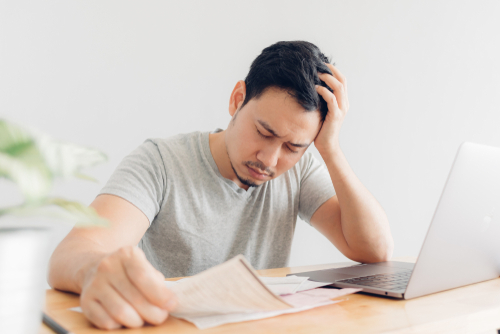 If you have an overdue debt hanging over your head, you may begin to hear from a debt collector called Aargon Agency Inc. Their calls are annoying, but they are the least of your worries when it comes to your credit score.
Calls from a debt collector are nine times out of ten, accompanied by an entry on your credit report.
This collection entry can negatively impact your credit score, which influences your chances of getting approved for a loan or credit card.
Lenders can also make loan decisions based on the fact that you have a delinquency on your credit report.
FICO says that having a collection account on your credit report can damage your score up to 100 points.
This is why it's so important to remove any negative accounts that may be on your credit report.
Taking care of them will also get Aargon Agency Inc off your trail, which means no more annoying phone calls or letters.
What is Aargon Agency Inc?
Founded in 1996 in New York, Aargon Agency Inc is a medium-sized debt collection agency that collects delinquent debts on behalf of original creditors.
They are currently headquartered in Las Vegas, but they have additional locations in Hawaii, Florida, Missouri, and Colorado.
They collect on a variety of industries, including banking, entertainment, medical, real estate, retail, utilities, and more.
How to Deal with Aargon Agency
These are the steps you need to take to stop Aargon Agency's calls and get the collection off your credit report for good.
Request Debt Validation
The most important step when it comes to dealing with Aargon Agency Inc is to request debt validation.
This step is also on a time limit, so it's important not to ignore calls from them when they start. You only have 30 days from their first contact to get this done.
Requesting validation on your debt is a right that is provided to you by the FDCPA. It allows you to verify that the debt is legitimate and belongs to you. Otherwise, you could be footing the bill for someone else's debt.
To start, write a debt validation letter to Aargon Agency Inc. This is a letter that formally asks them to provide evidence that the account belongs to you and that they are legally allowed to collect it.
Be sure to also request a return receipt so that you can know for certain that they received your letter.
Aargon Agency Inc should come back with evidence of the debt in the form of various documents. Be sure to go through each page and mark any information that doesn't match what you have.
If everything is clear and matches your information, then the debt belongs to you. If you find discrepancies, you can file a dispute with the major credit bureaus. They will then investigate the listing and ask them to remove it.
Get a Free Copy of Your Credit Report
If You Paid the Debt: Request a Goodwill
Your first option to consider is requesting a goodwill deletion from Aargon Agency Inc.
A goodwill deletion is when the collector, in this case, Aargon Agency Inc, agrees to stop reporting your debt to the major credit bureaus out of kindness.
However, they are also normally only willing to stop reporting if you have already paid the debt without the hassle and if you are a first-time offender.
To request a goodwill deletion, you will need to write them a letter explaining to them the reason for your debt. This can be anything from a medical emergency, family emergency, or a job layoff.
Whatever it is, Aargon Agency Inc will likely ask you to provide documentation.
Be sure that you remain honest, apologetic, and friendly in your letter. They will be more likely to grant you a goodwill deletion if you ask nicely.
If You Haven't Paid the Debt: Pay-For-Delete Settlement
Goodwill deletions don't always work out. If you aren't able to secure one from Aargon Agency Inc, your next bet is to negotiate for a pay-for-delete.
A pay-for-delete agreement is when Aargon Agency Inc agrees to stop reporting your account information to all three credit bureaus in exchange for payment.
It is important that they agree to stop reporting rather than report it as paid. Even if the account is listed as paid, it will still affect your credit score.
Start by offering to pay back half of the total balance. Aargon Agency Inc will likely want more than this, so work with them until you come to an agreement. In exchange, they must agree to delete the collection accounts with the major credit bureaus.
Next, ask them to send this agreement in writing before you make your first payment. After you submit the first payment, check with all three major credit bureaus in 30 days.
If Aargon Agency's account is still listed on your credit report, reach back out to them. Let them know that they have not upheld their end of the bargain and must do so before you make another payment.
Hire a Professional
Collection agencies are tough eggs to crack. Sometimes, no matter how hard you try, you are unable to get anywhere with them.
If this has been your experience with Aargon Agency Inc, you may want to hire a credit repair professional to help you out.
Credit repair companies help people remove inaccurate, unverified, and fraudulent accounts from their credit report.
They know how the industry works backward and forwards, and they can use their know-how to help you fight collection agencies and improve your credit score.
Working with a trustworthy company is important when it comes to credit repair.
Review our comparison of some of the best credit repair companies and make sure to choose the best one for you.
If you have any tips on how to deal with them, let us know in the comments below.
Does Aargon Agency Inc Have Any Complaints?
Debt collectors are notoriously difficult to deal with. Aargon Agency Inc is no exception.
Despite being BBB accredited since 2011, they currently has 659 complaints filed with the Consumer Financial Protection Bureau (CFPB) and 24 complaints with the Better Business Bureau (BBB).
These complaints are in regard to FDCPA violations such as inaccurate reporting or failing to respond to debt verification requests.
If you find yourself facing any of these situations, you may also consider filing a complaint against Aargon Agency Inc.
In fact, you could walk away with a bit of money for your troubles.