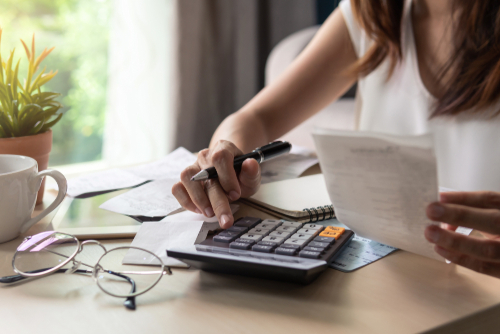 Have you heard of Advanced Collection Bureau, Inc.?
If so, it's likely because a collection account has appeared on your credit report, or you've received a letter or a phone call from the company.
And, undoubtedly, for whatever reason they have appeared in your life, it's not good news.
In this article, we're going to provide you with strategies for dealing with Advanced Collection Bureau, Inc.
About Advanced Collection Bureau, Inc.
As the name implies, Advanced Collection Bureau, Inc. is a collection agency. Based in Rockledge, Florida, the company has been in business since 2009.
Unfortunately, the company website reveals little about the agency. It even includes a blank page for "Client Resources."
In fact, there isn't even an "About" page describing the company and their business for clientele.
They have a Better Business Bureau rating of "B-", on a scale of A+ to F.
That's actually a pretty good rating for a collection agency.
And, only 21 complaints have been filed against the agency in the last three years.
Virtually all 21 complaints have been answered by Advanced Collection Bureau, Inc., and several have been resolved to the consumer's satisfaction.
The most common complaint seems to be debts claimed by the agency that are completely unknown to the consumer.
Before You Deal with Advanced Collection Bureau, Inc.
There are certain rules for dealing with any collection agency, and you should be fully knowledgeable of those:
1. Do Not Communicate by Phone
If you see a collection account on your credit report from Advanced Collection Bureau, Inc., your first instinct may be to give them a call. Don't.
You can get contact information for the company from your credit report.
Each entry included in your credit report is required to provide the name and contact number of any company that reports information on you. That includes collection agencies.
But, just in case the information doesn't appear on your credit report, their mailing address is as follows:
Advanced Collection Bureau, Inc.
1535 N. Cogswell St., Suite B-8
Rockledge, FL 3295-0063
Instead of contacting the company by phone, send them a letter. In fact, if they do contact you by phone—and leave a message—respond in writing, rather than by phone.
Collection agents are skilled at intimidating consumers. They can get you to provide additional information connecting you to the debt.
But, you should always remember that collection agencies routinely record phone calls.
Any information you provide in a phone conversation can be used against you if the collection agency decides to pursue legal action.
Get a Free Copy of Your Credit Report
2. Communicate in Writing
If you shouldn't deal with Advanced Collection Bureau, Inc. by phone, how do you contact them to work out an arrangement?
In writing. You have the legal right to demand all communication with a collection agency be conducted in writing, and not by phone.
There are plenty of benefits to written correspondence.
The first is that it will put an end to harassing phone calls.
The second is that it will eliminate direct conversations with agents who know more about the collection process than you do.
And third, it will prevent you from incriminating yourself in a recorded phone call.
Written correspondence also provides you with a track record of all conversations and agreements.
That will make it easier for you to know exactly what's going on around the negotiating process.
It may also provide you with evidence if Advanced Collection Bureau, Inc. chooses to pursue legal action against you.
And, since written correspondence can be edited, you can—and should—keep the content of your letters to an absolute minimum.
All correspondence from you should be sent by certified mail, return receipt requested.
That will not only prove you sent your letters to the company, but also that they were received and when.
3. Never Promise to Make a Payment
One of the worst ways to deal with a collection agency is to make a promise to send money in the hopes of getting rid of them.
That's not a problem if you intend to send the money and you have the funds to do so.
But, if you don't, your unfulfilled promise can be held as evidence against you in a lawsuit.
That will apply whether the promise is made in a recorded phone conversation or by mail.
Never—ever—make a promise to make a payment, or even hint that you will unless you fully intend to follow through and have the money available to do it.
4. Know Your Rights Under Federal Law
The Fair Debt Collection Practices Act (FDCPA) provides consumers with certain protections from collection agency abuses.
You can learn these protections by reading the Debt Collection FAQs provided by the Federal Trade Commission (FTC).
Just knowing your rights under federal law may give you the upper hand when a collection agency starts getting ugly.
Get Professional Help Dealing with Advanced Collection Bureau, Inc.
If you're getting a sense that dealing with Advanced Collection Bureau, Inc. isn't particularly easy, you have the right idea.
Under the best of circumstances, dealing with a collection agency is an adversarial arrangement.
If you don't feel you can handle the process, we recommend turning to a good credit repair company.
They work with collection agencies all the time and will have a better chance of both settling your debt and minimizing the damage to your credit.
But, if the debt is particularly large, or Advanced Collection Bureau, Inc. threatens you with legal action, retain the services of a credit law firm, like Lexington Law.
They specialize in credit law, and can both protect your interests and keep a collection account from turning into a judgment.
Get Advanced Collection Bureau, Inc. Off Your Credit Report
Now that you're familiar with the four basic rules of dealing with collection agencies, let's dive into specific strategies.
Debt Validation
Requesting a completed debt validation letter should be your first step in communicating with Advanced Collection Bureau, Inc.
If they fail to provide the letter, or if it comes back missing important information, you may be able to challenge the legitimacy of their claim.
The letter should include all information relevant to the debt, including:
date it went into collection
specific dollar amount,
original creditor,
other information that establishes the claim as a legitimate debt
It should also have information that clearly connects the debt to you personally.
Many times, collections are a matter of mistaken identity or of a payment not properly credited.
The debt validation letter, if it is complete, will help you to identify either situation.
If you can, you can dispute the account with Advanced Collection Bureau, Inc. They're supposed to remove a collection account if the debt is not fully validated.
If they don't, you can open a dispute with the three credit bureaus. They will then similarly attempt to have Advanced Collection Bureau, Inc. validate the debt.
If they can't, the bureaus will automatically remove the collection account from your credit reports.
Request a Goodwill Deletion
This is a simple and sometimes effective strategy to remove a collection account from your credit report.
The debt will need to be paid in full, or you'll need to pay it in advance of making the request.
Basically, you'll send the collection agency a goodwill letter, requesting that they remove the negative information from your credit report as an act of goodwill.
For that to happen, your letter will also have to provide a convincing explanation that the reason the account was in collection was due to extenuating circumstances, like an illness or a divorce.
Offer a "Pay-for-Delete" Agreement
This is a frequently mentioned strategy for having a collection account removed from your credit reports, but there's no guarantee it will actually work.
You'll send Advanced Collection Bureau, Inc. a pay-for-delete letter, outlining your proposal.
Basically, you'll be asking them to delete the collection accounts from your credit reports in exchange for you providing full payment of the debt.
However, though the company may accept your terms, they may not follow through.
Pay-for-delete agreements are not legally enforceable, even if they are confirmed by the collection agency in writing.
But, if you intend to pay the debt anyway, you may as well try to get the collection account removed at the same time. If it doesn't work, you'll need to try other strategies.
Demand Deletion if Advanced Collection Bureau, Inc. Can't Validate the Debt
This strategy gets back to the debt validation letter.
If Advanced Collection Bureau, Inc. doesn't provide it, or if it comes back missing important information, you can challenge the legitimacy of the debt.
The collection agency may delete the account if they agree that either the debt or its connection to you are not valid.
But, not all collection agencies will cooperate. You may need to dispute the account with the three credit bureaus, who will delete the collection account if Advanced Collection Bureau, Inc. fails to validate the debt fully.
In other cases, the collection agency will continue with its collection efforts against you, even if the credit bureaus delete the account from your credit reports.
If this happens, you may need to get legal representation to make your case. Attorneys can often have debts deleted for lack of complete information. (More on that in the last section of this article.)
Settle the Debt for Less than the Full Amount Owed
This is how many collection accounts are settled, but it also may be the strategy you are least comfortable attempting.
That's because it will require negotiating skills, which not everyone has, especially when dealing with an adversary—the collection agency.
You'll send Advanced Collection Bureau, Inc. a letter proposing to settle the debt for less than the full amount owed.
We recommend starting the negotiations at 50% or less of the full amount the collection agency is claiming against you.
If they're willing to negotiate, they will counteroffer with a higher settlement amount.
There may be several exchanges until a dollar figure is reached that's agreeable to both you and Advanced Collection Bureau, Inc.
Once that number is reached, insist Advanced Collection Bureau, Inc. send you a letter confirming the details of your agreement.
It must include that they are accepting a reduced amount in full satisfaction of the debt, that they will cease further collection efforts, and that they will report the account as paid to all three credit bureaus.
Send payment only when this letter is received confirming all the agreed-upon details.
If you send money before receiving the letter, Advanced Collection Bureau, Inc. may accept your payment, and then continue pursuing you for the balance of the full debt amount.
This is an example of how collection agencies don't always play fair. If you don't get all agreements from the company in writing, bad things are likely to happen.