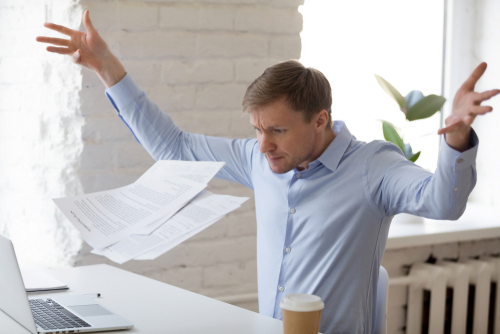 If you have begun hearing from a company called Advanced Collection Services, it is likely because you have missed a payment recently.
They make it their business to acquire overdue bills from creditors and collect payments from consumers.
They are very persistent and can even be aggressive in their pursuits. However, this is not the worst part about dealing with a debt collector.
Before they can legally collect your debt, they have to contact the major credit bureaus and open a collection account on your credit report.
This entry shows that they are in possession of the debt and can pursue you for payments.
Collection accounts will also impact your credit score – drastically. It can cause your score to drop by as much as 100 points and will remain on your credit report for as long as seven years.
Before you panic, it's not too late to prevent Advanced Collection Services from causing long-term damage to your credit score.
The trick is to remove their collection account from your credit report and get them off your back for good.
What is Advanced Collection Services?
Founded in March of 1985, Advanced Collection Services is a collection agency headquartered in Bangor, ME.
They are a relatively small operation and collect a variety of debts across several industries.
This includes but is not limited to:
student loan providers
health care professionals,
financial institutions
commercial enterprises
government agencies
If you have debt in one of these areas, you may be pursued by them.
Get a Free Copy of Your Credit Report
How to Deal with Advanced Collection Services
Want to make a game plan to deal with Advanced Collection Services?
Here are our four top tips on how to remove the collection from your credit report and stop their calls.
Understand Your FDCPA Rights
Most people who deal with Advanced Collection Services experience some unpleasant interactions and even harassment.
You may assume that this is part of the process, but this behavior could actually be illegal under the FDCPA.
The Fair Debt Collections Practices Act (FDCPA) is a law that protects consumers from deception, abuse, threats, and harassment from debt collectors.
It was enacted in 1977 after the American public began to demand that the government regulate the way that debt collectors interact with consumers.
Since then, the FDCPA has helped keep debt collectors in line when they are communicating with customers.
However, many agencies continue to disregard the rules under the assumption that you don't know any better.
That is why it is important for you to familiarize yourself with your rights under the FDCPA.
What Advanced Collection Services CANNOT Do
Here are some examples of what they are forbidden to do under the FDCPA:
Call before 8 a.m. or after 9 p.m.
Call a customer at work or at a time they have previously indicated is inconvenient
Use obscene or profane language
Threaten criminal charges or legal action that cannot or will not be taken
Fail or refuse to validate a debt
Contact family, friends, neighbors, or coworkers regarding a debt
If they commit any of the above infractions when communicating with you, you have a right to file a complaint with the CFPB or the BBB.
You may also be entitled to financial compensation if the abuse is bad enough, and if you work with proper representation.
Take some time to read up on the FDCPA and how it protects your rights. This is one of the most effective ways that you can advocate for yourself throughout the debt collection process.
If this all seems like too much for you to deal with on your own,
we suggest you seek help from a professional credit repair company.
Request Debt Validation
One of the most important rights that is afforded to you under the FDCPA is the right to request debt validation.
The debt collection process is far from perfect. When a debt is moved from an original creditor to a debt collector, the process is often hurried and unorganized.
It is possible that the information about your debt is misconstrued or lost in the process. In fact, it's possible that the debt isn't even yours to begin with.
Debt validation allows you to confirm that Advanced Collection Services has the correct information about your debt.
This prevents you from paying more than you owe or footing the bill for someone else's debt.
Even if you are certain that the debt belongs to you, you should still take advantage of your ability to request debt validation.
This is because you can have the debt removed from your credit report if Advanced Collection Services has any inaccurate information about your debt.
In short, you could get out of paying it all together on a technicality.
How To Request Debt Validation
To request debt validation, write Advanced Collection Services a debt validation letter.
This is also known as a Section 609 letter, and it is an official request for a debt collector to validate a debt.
Make sure you request a return receipt when you send the letter so that you can confirm that Advanced Collection Services has received it.
They should return with documents that prove the account is yours in about 30 days.
If they are unable to validate the account, they are required to contact the three major credit bureaus and remove the debt from your account.
Make a Pay-For-Delete Agreement
Even if Advanced Collection Services is able to validate your debt, you can still get the entry deleted by making a pay-for-delete agreement with them.
A pay-for-delete agreement is exactly what it sounds like:
Advanced Collection Services agrees to delete their collections entry from your credit report in exchange for you making payments on the debt.
While this may sound relatively straightforward, pay-for-delete agreements are notoriously hard to strike with debt collectors.
This is because they would essentially be altering an official record by removing your entry.
However, they may be willing to do this in exchange for payment.
How To Negotiate
To begin the negotiations, offer to pay Advanced Collection Services half of your overall balance.
Tell them that you would like their entry completely removed from your credit report in exchange for payment.
Go back and forth with them until you come to an amount and terms that work for both of you.
Make sure that, no matter how much you pay, you don't budge on your request to have the account removed.
If they agree, draft up a contract that both parties need to sign. Make sure that you secure their signature on the contract before you make a payment.
This will help bolster your case down the line if you need to.
It usually takes about a month for a debt collector to delete a collections account from a credit report.
Monitor your report to ensure that Advanced Collection Services follows through on their promise. If they don't, reach back out and remind them.
Does Advanced Collection Services Have Any Complaints?
Debt collectors are known for employing aggressive collection tactics in order to get their customers to make their payments.
This usually means that they have complaints filed against them with major oversight bureaus.
Unfortunately, Advanced Collection Services falls in line with these expectations.
They have had complaints filed against them with both the Consumer Financial Protection Bureau (or CFPB) and the Better Business Bureau (BBB).
They currently have a D- rating with the BBB due to their failure to respond to consumer complaints throughout their lifetime.
You may be wondering what Advanced Collection Services is doing to accrue so many complaints.
Consumers mostly complain of violations of their FDCPA rights, such as verbal abuse from customer service representatives and failure to validate debt information.
Conclusion
Having to handle a debt collector like Advanced Collection Services can be intimidating, but you shouldn't procrastinate it.
It is better to face them early on because this will give you a better shot at being able to remove their account from your records.
You have a great chance at stopping Advanced Collection Services' collection efforts by following the steps above.
If you are unable to get rid of them yourself, however, you can always work with a credit professional to remove their account and rebuild your credit.