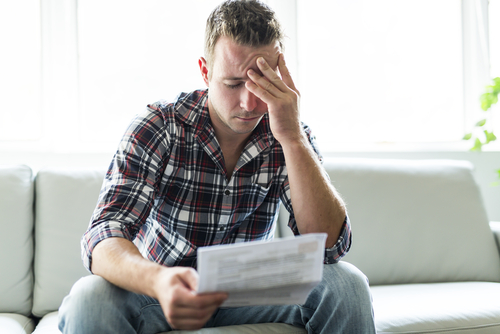 Medical debt is one of the most common types of debt in the United States. If you have a hospital bill hanging over your head, ARStrat may swoop in to come collect it.
ARStrat is a healthcare debt collection agency that will hound you for payments on your medical bills.
They are certainly annoying to deal with, but they have more dire consequences than constant phone calls and letters.
In order to legally collect a debt from you, ARStrat must first open up a collections account on your credit report.
This entry is damaging to your overall credit score and can even impact what kinds of interest rates you are approved for in the future.
Simply put, an ARStrat collection entry can cost you money down the line – unless you fix it.
The best way to deal with ARStrat is to remove their entry from your credit report as soon as you can.
Read on to learn more about how best to accomplish this.
What is ARStrat?
Headquartered in Houston, ARStrat is a medium-sized debt collection agency that specializes in collecting debts on behalf of companies in the healthcare industry.
They have been in operation since 2015 and are a subsidiary of GetixHealth, which is also a debt collection agency servicing hospitals and other medical facilities.
How to Deal with ARStrat
Once ARStrat is on your credit report, the entry will continue to damage your score for as long as seven years.
Removing it as soon as you can is the best way to improve your chances of loan approval and prevent long-term harm to your credit score.
Here are three steps to deal with ARStrat for good.
Take Advantage of Your FDCPA Rights
The FDCPA or Fair Debt Collections Practices Act is a law that prevents debt collectors like ARStrat from abusing, harassing, or deceiving consumers when collecting a debt.
However, it is unlikely that a debt collector will ever inform you of your rights. That is why it is up to you to educate yourself about the FDCPA and take advantage of the rights it provides for you.
Communicate in Writing
One of the rights you have under the FDCPA is that you are allowed to ask ARStrat to contact you strictly through U.S. Mail.
This is something you should do immediately after ARStrat contacts you for the first time.
Having written communication with ARStrat is important for a number of reasons.
First, it can help you keep track of all your correspondence with them. By holding on to each piece of mail, you can refer back to letters as needed and keep them in line when it comes to how often and how politely they communicate with you.
Second, written correspondence will help you when it comes to negotiating a settlement with ARStrat down the road.
It will prevent them from agreeing to certain terms of a settlement over the phone and turning around and doing the opposite.
Debt Validation
Another FDCPA right that you should take advantage of is the right to validate your debt.
Debt validation allows you to ask ARStrat for evidence that the debt belongs to you before you make payments on it.
What's more, it's possible that they don't have sufficient evidence to be collecting it in the first place.
This means that you can have the collection remove from your records without paying it at all.
You should send ARStrat a debt validation letter that asks them to provide evidence that the debt belongs to you and that they are authorized to collect it.
Most companies have a deadline for sending debt validation requests, so make sure that you don't procrastinate this.
If ARStrat is unable to validate your account, you can file a dispute with the major credit bureaus and have the debt removed from your account for good.
If they are able to validate your account, you will need to turn to a settlement option to remove them from your credit report.
Negotiate a Pay-For-Delete Agreement
The most common type of settlement that people make with debt collectors is known as a pay-for-delete agreement.
A pay-for-delete agreement gets ARStrat to stop reporting the debt in exchange for payments on your balance.
If you play your cards right, you may be able to get away with paying less than the total amount.
The best place to start negotiations with ARStrat is at about half of the total amount of the debt.
You will probably get some resistance, but you should work with them until you reach an amount that works for both of you.
The most important part of the agreement is the deletion clause. This is what holds ARStrat responsible for deleting the account rather than changing it to a paid status.
Make sure that they agree to this specifically. Otherwise, you will continue to see your credit score drop over time.
Once you reach an agreement with ARStrat, have them mail you the full agreement in writing.
Do not make a payment on the debt until you receive this document and approve of the terms as they are written.
Your credit report should clear up about 30 days after your first payment.
If you notice that ARStrat still appears after that time, reach back out to them and remind them that they need to uphold their end of the bargain.
Work with a Credit Repair Company
ARStrat is notoriously difficult to work with, and they may not agree to remove your account no matter how you approach them.
If you are hitting a brick wall, it may be time for you to enlist the help of a credit repair company.
A credit repair company is a professional service that helps challenge negative accounts on your credit report to help remove them and boost your credit score.
They deal with all of the back and forth with ARStrat so that you don't have to worry about negotiating with them directly.
In fact, you may not have to communicate with them directly ever again.
When searching for a credit repair company, it is important that you work with someone that is suitable for your needs.
Be sure to check out our comparison of top credit repair companies to find what is best suited for you.
Does ARStrat Have Any Complaints?
Debt collectors are among the most despised companies in our society. This is because they often employ unsavory collection tactics to coerce customers into making their payments.
ARStrat, unfortunately, is no different and has the complaints to show for it.
They have had 14 complaints filed with the Consumer Financial Protection Bureau (CFPB) and 26 complaints with the Better Business Bureau (BBB) for violations of the Fair Debt Collections Practices Act (FDCPA).
The FDCPA prohibits certain debt collection tactics, such as harassing customers and reporting inaccurate information about a debt.
If you have experienced issues like this with ARStrat, it might be worth it to file a complaint as well. This can help hold them accountable for their bad behavior.
Conclusion
ARStrat is no fun to deal with, no matter who you are.
However, it is best to get it out of the way up top so that you don't have any issues applying to loans and credit cards down the line.
With these three steps, you can remove ARStrat from your credit report, mend your credit score, and set yourself up for financial success.
Have any tips on how to deal with ARStrat? Feel free to leave us your advice in the comments section below.