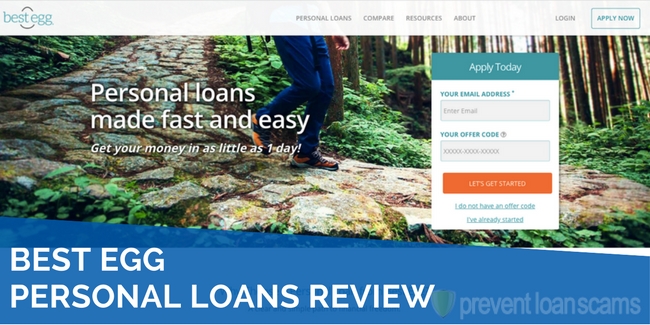 Our review of Best Egg's Personal Loan service includes a look at their loan offerings & terms, and how they compare to other lenders in the space. Should you trust them with your business in 2020?
Whether you need money because of an emergency or you've planned to borrow some capital for a long sought expense, taking out debt can be a stressful experience. The simple fact is, you're going to owe money to a third party, every month, for a fairly long period. It behooves you, then, to do your homework.
Ensure you're getting your loan from a reputable company that meets your financial needs. Some companies are better at some things than others, like lending only to borrowers with good-to-great credit scores, or to those who want to take larger loans.
In this way, Best Egg Personal Loans is no different than any of the other loan providers that you may see advertised. They offer unsecured, personal loans to consumers through their partner, Cross River Bank in New Jersey.
Best Egg Loans Offers:
Loan products can be confusing so it's a good idea to review quickly what exactly Best Egg is offering. The company offers:
Unsecured loans – this means that the loan you receive is not based on the collateral of any type of property.
Loans from $2,000-$35,000 – the wide range allows you to select the right amount for you, no more, no less.
Fixed terms – the percent you pay each month will stay the same for the life of the loan.
Fully amortized – meaning that each payment you make goes toward both the principal and interest of your loan.
No prepayment fee – Why should you pay a fee for being a responsible borrower? You shouldn't. If a loan provider is trying to charge you additional money to pay off your loan early, you should consider other options.

In short, a personal loan, as a product, is a relatively safe financial instrument, especially if you stick to using only the amount of credit you plan to.
Best Egg was founded by a team of former Barclays Bank executives. The company works closely with Cross River Bank in New Jersey to fund its loans.
The company primarily focuses on borrowers who have an above average credit score and tend to borrow more than average dollar amounts. To date, the company has originated more than $4 billion and continues to grow.
That growth is thanks primarily to its platform. Financial technology, known as fintech, has pushed traditional financial institutions closer than ever toward Silicon Valley. With so many consumers living most of their lives online, it stands to reason that credit should be available there as well.
Best Egg and its direct competitors specialize in this niche area of the lending world. While others may continue to lend out of storefronts or at large banks, Best Egg uses proprietary algorithms and social engineering to underwrite their loans. This online, algorithmic underwriting lowers overhead for Best Egg, indirectly benefiting the consumer by lowering rates.
What kind of consumer should look at Best Egg?
Those comfortable with technology. The entirely online process can throw some people off, but if you're comfortable with the internet, Best Egg is right for you.
Big earners. Best Egg generally targets borrowers who have higher than average incomes (over $100,000 annually), so if you have less than this, you may want to consider another loan provider.
Great credit scores. If you have damaged or broken credit, Best Egg will likely decline your application. They're focused on borrowers with excellent credit (similar to Discover personal loans).
I'm ready to apply!
So how does the process work? Let's take a look!
First, ensure you have your ducks in a row. Check your credit report (remember, soft pulls don't hurt your credit) and ensure you understand the amount of money you need to borrow. You can access your credit report for free through the FTC.
Additionally, many financial institutions and credit card companies now offer free credit reports and scores. Check with yours.
Next, visit Best Eggs website. Browse around a bit and ensure you're comfortable.
Then, click on apply now and enter your email address. Ensure it is correct, because Best Egg is entirely online, much of your communication with them will be electronic.
Then, you'll head to a page that asks you to enter your contact details, the reason for your loan and the amount you need. It is always a good idea to only borrow the amount required. You'll have to agree to have your credit pulled, thought it won't be pulled yet.
Then, you'll select your loan product. Loans vary in APR from 5.99% to 29.99% for loans from $2,000 to $35,000, with origination fees from .99% to 5.99%. The APR attached to your loan correlates to the term of your loan. The longer the term, the lower the APR.
Additionally, the APR will be dependent upon your credit report and score, as well as income information.
Finally, your loan will be submitted for approval. Sometimes, the loans are approved immediately and others you may have to wait a bit. Either way, you will be informed about the status of your loan application and you are entitled to a copy of your credit report.
That APR sounds high…
It does, but consider the alternative: credit cards. Best Egg's website points this out and research into debt and repayment backs it up.
The vast majority of borrowers will not self-impose a term on paying credit cards, thus extending out the payments. If a borrower makes minimum payments on a $10,000 credit card balance at 14% APR, it would take 28 years to pay off the balance and they would pay over $11,000 in interest!
Compare that to the Best Egg Personal Loan. A $20,000 balance with a 5.99% APR over three years would only result in $1,901 in interest. Yes, this assumes an on-time, automatic payment of over $600.
This may be untenable for most borrowers, but simply extending the term by two years or more lowers the payment significantly and still keeps the interest paid far below $11,000! Plus, you can always pay more than the minimum.
When do I get my money?
For approved borrowers, Best Egg aims to have funds in the borrower's bank account the next business day.
Best Egg Personal Loans At A Glance
| Detail | Terms |
| --- | --- |
| Average APR Range | 5.99% – 29.99% |
| Amount Loaned | $2,000 – $35,000 |
| Min. Credit Score | 640; avg. is higher |
| Origination Fee | Yes; .99% – 5.99% |
| Hard Credit Pull? | No; pull will not affect score* |
| Duration Range | Three – Five Years |
| Time to Receive Funds? | Typically One Business Day |
| Prepayment Fee | $0 |
| Late Fee/Unsuccessful Payment Fee | $15 |
| Check Processing Fee | $0 |
How Does Best Egg Personal Loans Stack Up?
Let's compare how Best Egg Stacks up to another popular online loan provider:
| | Best Egg Personal Loans | Similar Loan Provider |
| --- | --- | --- |
| Average APR Range | 5.99% – 29.99% | 5 – 15% |
| Amount Loaned | $2,000 – $35,000 | $5,000 – $100,000 |
| Min. Credit Score | 640; avg. is higher | 660; avg. is higher |
| Origination Fee | Yes; .99% – 5.99% | None |
| Hard Credit Pull? | No; pull will not affect score* | No; pull will not affect score |
| Duration Range | Three – Five Years | Three – Seven Years |
| Time to Receive Funds? | Typically One Business Day | Typically Seven Business Days |
| Prepayment Fee | $0 | $0 |
| Late Fee/Unsuccessful Payment Fee | $15 | 4% of payment due or $5 whichever is lower, after 15 day grace period |
| Check Processing Fee | $0 | $0 |
Best Egg and the similar loan provider are quite close to one another but differ in some pretty important ways. First, you should note That the APR range varies widely. This is because Best Egg, while targeting highly qualified borrowers, offers loans to a slightly lower end of the credit spectrum and in smaller quantities.
Second, note that the time to get your money is much shorter with Best Egg. Counting against it, Best Egg charges an origination fee (unlike options such as Citizens Bank), which slides with the size of the loan. Still, .99% on a $35,000 is $350. This is not nothing and worth considering.
Conclusion
Best Egg Personal Loans management is top notch and the underwriting algorithm is sound. More importantly, the loans are structured in such a way to provide the consumer with the maximum likelihood to pay them back.
The origination fee is a mark against the company and something to consider. However, if your credit isn't quite as good as you'd like or if you don't qualify for a bank loan, Best Egg is a great option to consolidate debt or make larger purchases.
*Soft credit pulls do not generally affect your credit score or report but many soft pulls in a short period of time can have an effect. Be sure that you understand the implications of credit pulls before initiating one.