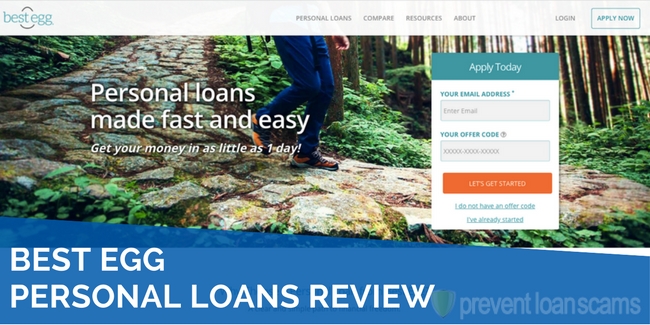 Doing your homework in advance limits the risk you take with any personal loan.
Getting the right loan amount and finding the best interest rate and loan term should be part of your research process.
You'll also need a lender suited to your specific needs. In this review we'll look closely at Best Egg Personal Loans so you can determine if this lender matches your needs.
Best Egg Loan Details
Best Egg Personal Loans lends money through its parent institution, Cross River Bank in New Jersey.
Best Egg offers personal loans with:
Unsecured balances: The loan you get is not based on the collateral of any type of property; typically unsecured loans cost more than secured loans.
Loan amounts from $2,000 to $35,000: This wide range allows you to select the right loan amount — and you should always borrow only the amount you need. (A few states have higher minimum loan amounts.)
Fixed loan terms: The interest rate you pay each month will stay the same for the life of the loan. Best Egg's personal loans range from 3 to 5 years.
Fully amortized: Each payment you make goes toward both the principal and interest of your loan.
No prepayment fees: Why should you pay a fee for being a responsible borrower and paying off your loan early? You shouldn't. If a loan provider is trying to charge you additional money to pay off your loan early, you should look for a lender with no prepayment penalties.
In short, a personal loan, as a product, is relatively safe, especially when you borrow only what you need. The loan has a scheduled payoff date unlike a credit card which has revolving limits and terms.
Best Egg was founded by a team of former Barclays Bank executives. The lender is part of Marlette Funding, LLC, and it works closely with Cross River Bank in New Jersey to fund its loans.
Best Egg's Focus
Best Egg Loans focuses on borrowers who have an above average credit score and who tend to borrow more than average dollar amounts. To date, the company has originated more than $4 billion in loans and it continues to grow.
Much of this growth stems from Best Egg's online lending platform. Financial technology, known as fintech, has pushed traditional financial institutions closer than ever toward Silicon Valley.
With so many consumers living most of their lives online, quality loans should be available online as well.
Best Egg and its direct competitors specialize in this niche area of the lending world. While others may continue to lend out of storefronts or at large banks, Best Egg uses proprietary algorithms and social engineering to underwrite its loans.
This online, algorithmic underwriting lowers overhead for Best Egg, indirectly helping the consumer by lowering interest rates.
Who Should Borrow With Best Egg?
No lender can serve everyone equally. The best candidates for a Best Egg loan include:
The tech-savvy: The online application process can throw some people off, but if you're comfortable with online banking and social media, you'll navigate Best Egg's application process just fine.
Big earners: Best Egg likes borrowers who have higher than average incomes (over $100,000 annually), so if you earn significantly less, consider some other loan providers. The average borrower earns $80,000 annually, and Best Egg requires a minimum debt-to-income ratio of 40% (or 65% including your mortgage).
Borrowers with excellent credit scores: Borrowers with damaged or broken credit have great loan options online, but Best Egg won't be one of them. Best Egg will likely decline your application. It's focused on borrowers with excellent credit (similar to Discover personal loans). You could get approval with a score as low as 640.
I'm ready to apply!
Before applying you should read this and other personal loan reviews to make sure you understand how the process works.
When you're ready to apply for a Best Egg Personal Loan, here's what you can expect:
Step 1: Check Your Own Credit
First, check your credit score (remember, soft credit checks don't hurt your credit) and figure out how much money you need to borrow. You can access your credit report for free through the FTC.
Or, many financial institutions, mortgage lenders, and credit card companies offer free credit reports and credit scores, including your FICO score which most lenders, including Best Egg, check before approving your loan. Check with your existing credit accounts to see if any of them already have your credit score listed.
Remember, Best Egg likely won't approve your loan if you have a shaky credit history. Its minimum credit score requirement is 640.
Step 2: Apply Online at Best Eggs's website
Next, visit Best Eggs website. Browse around a bit and make sure you're comfortable.
Then, click on "apply now" and enter your email address to start the application process. Best Egg works entirely online, so most of your communication will take place with email.
You'll be redirected to a form. Enter your personal information, the reason you're borrowing, and the loan amount you need. Best Egg will also ask about your employment, your annual income, and some other general details about your financial life.
If you're borrowing for debt consolidation, Best Egg will offer better loan terms if you let the lender pay off your old loans directly. Loans for home improvement or a purchase won't prompt this invitation.
At the end of this little questionnaire, you'll enter your Social Security number and consent to having a soft check on your credit. This soft check allows Best Egg to create loan offers or reject your application.
Step 3: Choose a Loan
Assuming you're still a candidate for a Best Egg loan, you'll see a variety of loan products. As of 3/12/21, interest rates vary in annual percentage rate (APR) from 5.99% to 29.99% for loans from $2,000 to $35,000, with origination fees from 0.99% to 6.99%. The best qualified borrowers get the lowest rates and fees.
The APR correlates with the term of your loan. The longer the term, the lower the APR.
Additionally, the APR will depend on your credit score as well as your annual income. Your monthly payment amount will depend on your APR and the amount you're borrowing — along with the length of your loan term. The longer the term, the lower your monthly payment.
Finally, your loan will be submitted for approval. Sometimes, the loans are approved immediately and others you may have to wait a bit. Either way, you will be informed about the status of your loan application and you are entitled to a copy of your credit report.
Pay attention to the repayment schedule. Best Egg charges a $15 late fee on payments.
That Annual Percentage Rate (APR) Seems High…
It does, but consider the alternative: credit cards which often charge 25% to 29% indefinitely. Best Egg's website points this out and research into debt and repayment backs it up: Credit cards make getting out of debt incredibly difficult.
The vast majority of borrowers will not self-impose a term on paying credit card debt, and this extends the payments — and the APR — indefinitely.
If a borrower makes minimum payments on a $10,000 credit card debt at 14% APR, it would take 28 years to pay off the balance. The borrower would pay high interest rates throughout this time generating more than $11,000 in interest payments alone.
Compare that to a Best Egg Personal Loan. A $20,000 loan balance with a 5.99% APR over three years would only result in $1,901 in interest. Yes, this assumes an on-time, automatic payment of over $600.
This may be untenable for most borrowers, but simply extending the term by two years or more lowers the payment significantly and still keeps the interest paid far below $11,000! Plus, you can always pay more than the minimum.
When Do I Get The Money?
For approved borrowers with a signed loan agreement, Best Egg aims to have loan proceeds in the borrower's bank account the next business day.
Best Egg Personal Loans At A Glance
| Detail | Terms |
| --- | --- |
| Average APR Range | 5.99% – 29.99% |
| Amount Loaned | $2,000 – $35,000 |
| Min. Credit Score | 640; avg. is higher |
| Origination Fee | Yes; .99% – 6.99% |
| Hard Credit Pull? | No; pull will not affect score* |
| Duration Range | Three – Five Years |
| Time to Receive Funds? | Typically One Business Day |
| Prepayment Fee | $0 |
| Late Fee/Unsuccessful Payment Fee | $15 |
| Check Processing Fee | $0 |
How Does Best Egg Personal Loans Stack Up?
Let's compare how Best Egg Stacks up to another popular online loan provider:
| | Best Egg Personal Loans | Similar Loan Provider |
| --- | --- | --- |
| Average APR Range | 5.99% – 29.99% | 5 – 15% |
| Amount Loaned | $2,000 – $35,000 | $5,000 – $100,000 |
| Min. Credit Score | 640; avg. is higher | 660; avg. is higher |
| Origination Fee | Yes; .99% – 5.99% | None |
| Hard Credit Pull? | No; pull will not affect score* | No; pull will not affect score |
| Duration Range | Three – Five Years | Three – Seven Years |
| Time to Receive Funds? | Typically One Business Day | Typically Seven Business Days |
| Prepayment Fee | $0 | $0 |
| Late Fee/Unsuccessful Payment Fee | $15 | 4% of payment due or $5 whichever is lower, after 15 day grace period |
| Check Processing Fee | $0 | $0 |
Best Egg and the similar loan providers have similar loans but they differ in some important ways. As you can see, the APR range varies widely. This is because Best Egg, while targeting highly qualified borrowers, offers loans to a slightly lower end of the credit spectrum and in smaller quantities.
Second, note that the time to get your money is much shorter with Best Egg. In the cons category, Best Egg charges an origination fee (unlike options such as Citizens Bank), which slides with the size of the loan.
Still, .99% on a $35,000 is $350. This is not nothing and worth considering as you compare personal loans.
Pros and Cons of Best Egg Personal Loans
Pros
Competitive loan rates for good credit borrowers; best rates go to borrowers with 700+ credit score.
Loan proceeds distributed within 1 business day.
Flexible repayment terms (you could change your due date).
Automatic payments from your checking account available.
A+ Rating with the Better Business Bureau.
Wide range of loan amounts (minimum loan amount is $2,000 in most states).
Easy-to-navigate online application process.
Soft credit check during application process.
No minimum income requirements stated; average borrower earns $80,000 a year.
Good for a variety of loan purposes including debt consolidation.
Cons
The origination fee is annoying.
A late fee of $15 on payments.
Processing fee applied to payments unless you go paperless.
The application process requires phone number. (You can opt-out of calls later.)
Debt analysis includes cash advances on credit cards.
Different states have different minimum loan amounts. Georgia's is $3,000; Ohio's is $5,000, and Massachusetts borrowers must take out at least $6,500.
Must be a U.S. citizen.
Is A Best Egg Personal Loan BEST For You?
Best Egg Personal Loans account management is top-notch and the underwriting algorithm is sound. More importantly, the loans are structured in such a way to provide the consumer with the maximum likelihood to pay them back.
The origination fee is a mark against the company and something to consider. Best Egg isn't the cheapest online lending platform.
However, if your credit isn't quite as good as you'd like or if you don't qualify for a bank loan, Best Egg is a great option to consolidate debt or make larger purchases by using an unsecured personal loan.
*Soft credit pulls do not generally affect your credit score or report but many soft pulls in a short period of time can have an effect. Be sure that you understand the implications of credit pulls before initiating one.