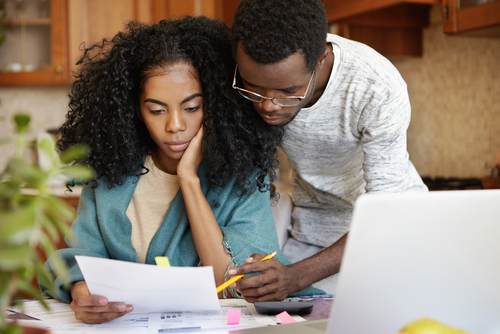 If you have missed payments on one or more of your bills, you may begin to hear from a company called Credit Control Corp.
They are a third-party debt collection agency and have been hired by your original creditor to recover payments from you.
To legally collect money from you, they have to open a collection account on your credit report first.
This shows that they are authorized to recover the debt and also acts as a negative mark on your credit history.
A collection account is bad for your financial health for a number of reasons. It will cause your credit score to drop for as long as seven years.
Also, it shows future lenders that you have a history of missing payments.
It's important to remove Credit Control Corp's entry from your credit report so that you aren't denied loans and credit cards in the future.
Luckily, there are some proven methods to remove collection accounts and stop debt collector calls.
What is Credit Control Corp?
Credit Control Corp is a medium-sized debt collection company that was originally founded in Virginia in 1999.
Also known as R & B Corporation, they specialize in collecting debts for utility providers, commercial enterprises, and healthcare institutions.
Currently, they have a headquarter staff of about 80 employees. They report their annual revenue at about $30 million.
How to Deal with Credit Control Corp
The best way to stop their calls and letters is to remove their collection account from your credit report.
This will also repair your credit history and boost your score over time.
Here's a step-by-step guide on how to deal with Credit Control Corp.
Hire a Professional
Not everyone has the time or patience to deal with Credit Control Corp.
You may prefer to offload this process. If so, you can always hire a professional to take care of it for you.
Credit repair companies are an excellent resource for people who aren't as confident about their ability to deal with Credit Control Corp.
They will work with debt collectors directly to negotiate settlements and remove damaging accounts from your credit report.
It is important that you do your research before you hire a company. Here is our comparison of the top credit repair companies and how they stack up against one another.
This will help you select the best option for your financial circumstances.
Ask for a Goodwill Deletion
COVID-19 has upended our lives in more ways than one. The pandemic may have caused you to take an economic toll.
If that's the case, you might be able to convince them to remove their entry from your credit report.
A debt collector could see that your debt was caused by circumstances that were out of your control. If so, they may be inclined to remove their entry after you pay the debt.
This is called a goodwill deletion, and it may be worth asking Credit Control Corp for one if your debt was caused by complications from the pandemic.
To request a goodwill deletion, begin by constructing a goodwill deletion letter.
This is a note that politely explains to a debt collector why you were late on your payments. It will also need to explain why it is important to you that their entry be removed.
You should include any documents that back up your narrative. If you were laid off or had an overwhelming medical bill, you should include copies of these along with your letter.
This will add credibility to your story and be more likely to push Credit Control Corp to act.
Request Validation on the Debt
Not everyone has a valid excuse as to why they were late on their payments. If asking for a goodwill deletion isn't an option for you, your next step should be to ask Credit Control Corp for debt validation.
Under the FDCPA, you have the right to ask them to prove that the debt is yours and that they can lawfully collect it.
You don't need an excuse to request debt validation, but you must do it within the first 30 days of contact with a debt collector. Otherwise, they may ignore your request.
Just like asking for a goodwill deletion, you will need to write a letter to Credit Control Corp to request validation on your debt.
This is called a Section 609 letter and is considered a formal request for them to provide documentation on your account.
In your Section 609, make sure to list your name and your account number so that they can easily find you in their system.
You should also request a return receipt when you send your letter. This will let you know when Credit Control Corp gets your letter.
If they are not able to validate your debt, they must contact the three major credit bureaus and remove the account immediately.
This is a way that many consumers can get out of paying a debt entirely.
Opt for a Settlement
If Credit Control Corp returns with documents proving that the debt is yours, you will need to pay the debt.
At this point, you should focus on making a settlement with them that deletes their account from your credit report.
Known as a pay-for-delete agreement, paying collectors in exchange for account removals is a relatively commonplace practice in the debt collection industry.
However, it will probably take a bit of negotiating on your part.
Credit Control Corp is hesitant to remove accounts because it is frowned upon to remove entries from official credit histories.
They may be able to look past this if they are desperate for you to make payments on the debt.
To kick things off, offer to pay them 30% of the total balance in exchange for a deletion. It is highly unlikely that they will go for this, but that is the point.
This negotiation strategy gives you room to concede, which makes it more enticing for Credit Control Corp to agree to a deletion at a higher repayment.
Once you come to a compromise with Credit Control Corp, write a contract that clearly states the terms and conditions of the pay-for-delete.
Get them to sign this contract and then make your first payment on the debt.
They will need time to remove the account, but it shouldn't take longer than 30 days after receiving your payment.
If they are still on your credit report after this time, you need to remind them of the contract and insist that they abide by the terms.
Get a Free Copy of Your Credit Report>>
Does Credit Control Corp Have Any Complaints?
Credit Control Corp, like other debt collection companies, has had a fair amount of complaints over the years.
While their complaints aren't as plentiful as other collection companies, consumers report similar issues.
They have had 25 complaints filed with the Consumer Financial Protection Bureau (CFPB) and about 70 complaints with the Better Business Bureau (BBB).
Consumers mainly complain of Credit Control Corp violating their rights under the Fair Debt Collection Practices Act (FDCPA).
Their infractions include calling all hours of the day and night, using threatening or obscene language, and failing to respond to debt validation requests.
You should file a complaint as well if you believe that Credit Control Corp is neglecting your FDCPA rights.
Conclusion
Dealing with a debt collector isn't anyone's idea of fun, but it's better to eat the frog than deal with the repercussions on your credit.
By sticking to the four steps outlined above, you can remove a collection account from your credit report and begin reconstructing your credit history.
Do you have experience with Credit Control Corp? Let us know any tips you have on dealing with them in the comments section below.