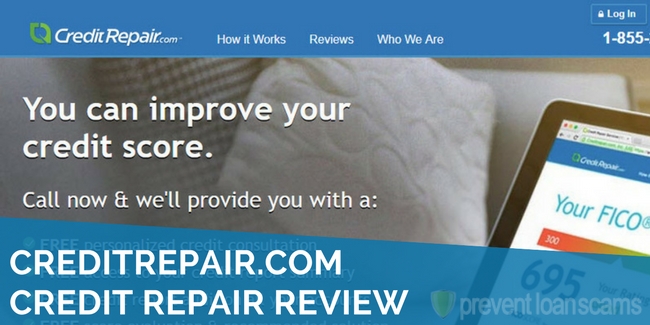 The following is our review of CreditRepair.com's service as a credit repair company, pros and cons of the firm, and a look at their track record.
CreditRepair.com rates as a reputable agency with exceptional standing in the industry. The firm has a proven record of successful removals with their customers, underpinning their quality reputation.
On the other hand, reputation is just one factor in determining whether you should hire a firm. We'll cover the pros and cons of CreditRepair.com and evaluate their effectiveness as a credit repair company.
What We Like About CreditRepair.com
There are a few outstanding features that we really like about CreditRepair.com.
First, they provide a streamlined website that allows viewers to easily access the information they might need. Additionally, they display customer results clearly and in a way that's simple to understand.
They also have a solid list of trusted partners on the website, which provides an outside reference and the allegiance of credit companies.
Most important of all, they have a simple but powerful 3-step process for repairing customer credit.
Below we've listed some of the advantages (the pros) of signing up with CreditRepair.com:
The company provides a solid record of diligence. They state that their customers' TransUnion credit scores increased an average of 40 points after just four months of membership. This is quite substantial and another good reason to seriously consider CreditRepair.com.
The 3-step process is very efficient and straightforward. Unlike other credit repair companies which often have complicated, hard-to-understand processes, CreditRepair.com's 3-step process makes it very simple for customers to understand how they will repair their credit.
CreditRepair.com boasts an average of 11.6 removals per customer. This is a relatively substantial number that shows that on average, CreditRepair.com is effective in removing negative items from your credit report.
There is a comprehensive education section. This section of CreditRepair.com's website offers many options regarding learning about credit reports, scores, and repair. These resources make it easy to learn more and find answers to your questions.
What We Don't Like About CreditRepair.com
Though CreditRepair.com does offer a simple process, we have a few qualms about whether this process can address every customer's needs.
The website advertises other companies which they consider trusted partners, but there is very little information about the nature of the partnership or supporting information demonstrating that these companies are indeed trustworthy.
There also seems to be a lack of information about how the experts communicate with credit bureaus so they can remove those items from your credit report.
Below we've listed some of the disadvantages (the cons) of signing up with CreditRepair.com:
You don't know who the experts are. The website advertises "experts", but doesn't provide information on them. You're have to take them at their word that you you're dealing with actual experts.
There are no links to outside articles. That being the case, customers don't receive an objective third-person evaluation of the site before signing up. To find objective opinions, a potential customer would have to look elsewhere.
CreditRepair.com is not an accredited Better Business Bureau (BBB) member. If a company isn't a member of the BBB, then there is no guarantee to the customer that the company has a publicly stated commitment to ethical standards, transparency, and efficiency.
It's true that individual companies can meet these standards without being members of the BBB, but if they're aren't, it leaves the customer with a bit of uncertainty.
Reviews and Comments
People are saying many different things about CreditRepair.com. The reviews are somewhat mixed, but they seem to tend toward the negative and their Better Business Bureau rating currently stands at 2/5 stars and an "F" (at the time of the research for this review: August, 2018).
However, unlike other companies, they actively respond to the reviews that they've received on the Better Business Bureau website.
For example, a user from the site commented that he was under the impression that CreditRepair.com guaranteed their results and he was shocked to discover that his credit score hadn't gone up.
He did mention, though, that they removed a few negative items from his credit report.
CreditRepair.com responded to his comment stating that they had issued him a partial refund on the agreement that he would remove his comment from the Better Business Bureau website.
Another customer similarly commented that they didn't receive the level of service they'd expected and also gave a negative rating.
Other clients gave CreditRepair.com positive ratings, advocating for patience and stating that while you can't expect "miracles" to be performed, the site was still effective.
Most of the negative comments appeared to be a result of the fact that many customers felt that they had been guaranteed a greater change in the credit report than they received. Some also commented that the benefits weren't worth the price being charged.
Most of the positive comments stated that service that CreditRepair.com provided lined up with expectations.
Using CreditRepair.com
CreditRepair.com seems to be most useful for people who need to have some items removed from their credit reports.
The company is also helpful for people who want to learn more about credit reports or have specific questions about how to dispute problems or manage credit. Their services are not very extensive, but they would likely be helpful on a smaller scale.
What Can Be Removed From Your Credit?
There are a few items that can be deleted from your credit report. These include:
collection accounts
errors
late payments
Chapter 13 bankruptcy
Chapter 7 Bankruptcy
unpaid tax liens.
How Does CreditRepair.com Repair Your Credit?
As we mentioned earlier, CreditRepair.com uses a 3-step process. The first part of the process is pulling up credit reports for customers.
Then they identify what items the customers would like to dispute on their credit report. Next, the site builds a "game plan" with the customer, outlining their personal credit goals.
After the plan has been outlined and the items that will been contested have been identified, CreditRepair.com will challenge them.
The site interacts directly with credit companies and credit bureaus to see what can be removed via investigation and what agreements can be made.
Then, CreditRepair.com improves your credit score by removing eligible items using the avenues, outlets, and tools at their disposal.
How Much Does CreditRepair.com cost?
The site advertises a simply monthly fee of $99.95.
What to Expect When Signing Up
CreditRepair will contact you within 48 hours and schedule a time to discuss your credit report after it has been retrieved from the credit bureaus.
Afterward, they will follow up with you and hopefully be able to remove the negative items that were identified in the initial credit review.
What Results Can You Expect from CreditRepair.com?
CreditRepair states that they can help you repair your credit though the removal of negative items on your credit report.
They also claim that they will raise your credit score. On their main website, they cite that the average member receives an increase of about forty (40) points on their TransUnion credit score within just four months of signing up with the company.
CreditRepair.com also advertises customized tools designed to guide individuals through the tasks and action items necessary to maintain a healthy score and see continual progress.
Who is CreditRepair.com?
Unfortunately, there isn't a lot of information about the origins of the company.
The website lists the copyright as running from 2012-2015, so we can guess that the company began in 2012. The bio on the website gives information about the company's mission and what distinguishes them from competitors.
CreditRepair.com's mission states, "[We] empower every individual to achieve the credit scores they deserve and enjoy a lifestyle of greater opportunity."
Who Owns Credit Repair.com?
There isn't any information about the company's owner. However, the website contains a press release that mentions the company president, Scott Smith.
CreditRepair.com appears to be based in Seattle, Washington.
Frequently Asked Questions
Does CreditRepair.com offer a guarantee?
No, the site does not provide a guarantee. However, they do provide stats for the average success rate they have with customers.
Is it possible for deleted items to reappear on your credit report after working with CreditRepair.com?
There's nothing to indicate in the website, reviews, or third-party websites that customers have had deleted items reappear on their credit report.
However, it could be a possibility, as credit bureaus are independent of any repair service.
How long does CreditRepair.com take to repair your credit?
The website advertises that they have seen increases in credit scores for their customers in just under four months.
However, the length of time is dependent on the person. Everyone has a unique situation.
Based on research, though, it appears that the effectiveness of CreditRepair.com peaks within the first year it's used.
Is there a couples, family, or active military discount?
CreditReport.com doesn't seem to offer any of the above discounts. They only discounts they offer are time-based discounts depending on the time of year.
What are CreditRepair.com's hours?
Monday – Friday: 8 a.m. – Midnight ET
Saturday: 9 a.m. – 11 p.m. ET
Sunday: 9 a.m. – 10 p.m. ET
What is CreditRepair.com's Phone Number?
How Do You Cancel a CreditRepair.com Membership?
To cancel your membership, contact CreditRepair.com directly, using the contact information listed on the website. You just need to request that you no longer be a member.