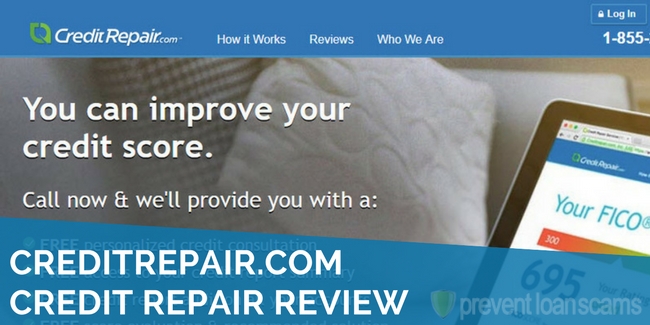 The following is our review of CreditRepair.com's service as a credit repair company, pros and cons of the firm, and a look at their track record through customer reviews of their credit repair services.
CreditRepair.com is recognized as a popular credit monitoring agency in the industry. The firm touts a track record of successful removals of credit issues with their customers on their website.
On the other hand, a company's self-reported results is just one factor in determining whether you should hire a firm. We'll cover the pros and cons of what CreditRepair.com provides and evaluate its effectiveness as a credit repair company.
Let's look at how they may differ from other credit repair organizations like Credit Saint, Lexington Law, or Sky Blue Credit.
What We Like About CreditRepair.com
There are a few positive features that we appreciate about CreditRepair.com.
First, they provide a straightforward website that allows viewers to easily access the information they might need or be looking for. Additionally, they display customer results and testimonials clearly and in a way that makes seeing how successful they may be very clear.
Though, note: make sure never to blindly accept a company's self-reported testimonials. And, understand credit repair is a process that CAN be done yourself (without hiring a credit repair company).
They have an easy to understand and an intuitive 3-step process for repairing customer credit: Check, Challenge, Change.
Below we've listed some of the advantages of signing up with CreditRepair.com:
The company provides a solid record of results on their website. While all credit situations are unique, the firm's history in the industry is worth taking into account before working with CreditRepair.com.
The 3-step process is very efficient and straightforward. Unlike other credit repair companies that often have complicated, hard-to-understand processes, CreditRepair's 3-step process (Check, Challenge, Change) makes it very simple for members to understand how they will help them work to repair their credit.
There is a comprehensive education section. CreditRepair.com offers an article library with hundreds of articles containing information pertaining to credit improvement, debt solutions, identity theft, loans, and savings. Members and potential members are able to gain knowledge about several things, including how bad credit may affect you, solutions for debt management, and great tips on how to save money more efficiently. Reading through a few of these information-packed articles could help answer a few questions you might have or help you to maintain a healthy financial state.
What We Don't Like About CreditRepair.com
Though CreditRepair.com does offer a simple process, we have a few qualms about whether this process can address every customer's needs.
Notably: in May 2019, a suit was filed by the Consumer Financial Protection Bureau (CFPB) against Progrexion (CreditRepair.com's parent company), relating to Telemarketing practices & the collection of upfront fees.
The website advertises other companies that they consider trusted partners, but there is very little information about the nature of the partnership or supporting information demonstrating that these companies are indeed trustworthy.
There also seems to be a lack of information about how the experts communicate with major credit bureaus so they can remove those items from your credit report.
Below we've listed some of the disadvantages (the cons) of signing up with CreditRepair.com:
You don't know who the experts are. The website advertises "experts" but doesn't provide information on who these people are or what makes them qualify as experts.
There are no links to outside articles. That being the case, customers don't receive an objective third-person evaluation of the site before signing up. To find objective opinions, a potential customer would have to look elsewhere.
CreditRepair.com is not an accredited Better Business Bureau (BBB) member. BBB (Better Business Bureau) accreditation provides businesses with third-party validation of the company's legitimacy and ethics. Unfortunately, CreditRepair.com is not accredited by the BBB, and has a rating of 'F' at the time of this review (June 30, 2019).
Reviews and Comments
People are saying many different things about CreditRepair.com. The reviews are somewhat mixed, but they seem to tend toward the negative.
Any of the negative comments stated that they didn't receive the level of service they'd expected, or people were under the impression that there were guaranteed results.
We couldn't find an instance on their website that says they guarantee anything, for every credit situation is unique to each individual. Reviews like this may be subjective, for someone who had received the same service could've felt satisfied with the results.
As for the positive reviews, most members commented about how while it might've taken longer than they anticipated, CreditRepair.com exceeded what they thought was possible for their credit. Others said that the service provided by CreditRepair.com lined up perfectly with their expectations, and they received exactly what they hoped to.
Using CreditRepair.com
CreditRepair.com seems to be most useful for people who need to have some unfair, inaccurate, and unverified items removed from their credit reports, and are looking to potentially increase their credit score (though, note: a credit repair company can not promise an increased score due to the credit repair organizations act).
Their services are not very extensive, but they are focused on helping you work to achieve one vital end goal.  Be sure to note that Creditrepair.com doesn't offer credit counseling or debt consolidation. If your credit has been impacted through credible ways, they cannot help you.
If you're unsure of whether or not you might need the help of a credit consultant, you can give CreditRepair.com a call (833-841-1600) and receive a free credit consultation.
What Can Be Removed From Your Credit?
We all know bad credit can result in terrible interest rates from both credit cards and other loan organizations.
CreditRepair.com works with the credit bureaus like Equifax, Experian, and TransUnion, and your creditors to challenge the unfair or inaccurate negative report items that affect your credit score.
They will work to ensure your credit history is up-to-date, accurate, and reflects you honestly, which in the end, can all help to potentially fix your credit.
There are a few items that might be listed on your credit report that can be challenged. These items must be inaccurate, unfair, or invalid in order to be removed:
How Does CreditRepair.com Repair Your Credit?
When you sign up with CreditRepair.com, they immediately pull your credit report summary and organize it in a way that makes it easy to identify items that might be inaccurate, unfair, or invalid.
Focusing on these items that might be a roadblock to good credit helps them build a game plan for you that fits your personal credit needs.
They will then contact the credit reporting companies and challenge those negative items, and verify with the credit bureaus that the appropriate changes have been made to your credit report.
They will leverage every available consumer rule to protect you and make sure all the personal information on your credit report is accurate.
As you work to achieve your goals, CreditRepair.com keeps you connected to your progress with tools such as a personal online dashboard, credit score tracker and analysis, mobile apps friendly with iOS and android, and text/email alerts.
How Much Does CreditRepair.com cost?
There are 3 packages to choose from. The cheapest package offers basic features like inquiry assists and quarterly credit score updates.
The most expensive package will provide more extensive features, like monthly score updates.
As of 3/16/21, the prices for these packages are as follows:
Direct – $69.95 per month, with a first work fee of $69.95
Standard – $99.95 per month, with a first work fee of $99.95
Advanced – $119.95 per month, with a first work fee of $119.95
We don't like the extra fee for the credit report pull and believe the company should instead offer the ability for a customer to provide their own free credit report to CreditRepair.com at no charge.
What to Expect When Signing Up
CreditRepair will contact you within 48 hours and schedule a time to discuss your credit report after it has been retrieved from the credit bureaus.
Afterward, they will follow up with you and hopefully be able to remove the negative items that were identified in the initial credit review.
What Results Can You Expect from CreditRepair.com?
CreditRepair states that they can help you repair your credit through the removal of negative items on your credit report.
They also claim that they will work to raise your credit score. On their main website, they cite that the average member receives an increase of about forty (40) points on their TransUnion credit score within just four months of signing up with the company.
CreditRepair.com also advertises customized tools designed to guide individuals through the tasks and action items necessary to maintain a healthy score and see continual progress.
Who is CreditRepair.com?
Unfortunately, there isn't a lot of information about the origins of the company.
The website lists the copyright as running from 2012-2015, so we can guess that the company began in 2012. The bio on the website gives information about the company's mission and what distinguishes them from competitors.
CreditRepair.com's mission states, "[We] empower every individual to achieve the credit scores they deserve and enjoy a lifestyle of greater opportunity."
Who Owns Credit Repair.com?
There isn't any information about the company's owner. However, the website contains a press release that mentions the company president, Scott Smith.
CreditRepair.com appears to be based in Seattle, Washington.
Frequently Asked Questions
Does CreditRepair.com offer a guarantee?
No, the site does not provide a money-back guarantee. What they do provide, though, are stats for the average success rate they've seen with past members and a free consultation.
Is it possible for deleted items to reappear on your credit report after working with CreditRepair.com?
There's nothing to indicate on the website, reviews, or third-party websites like Trustpilot, that customers have had deleted items reappear on their credit report.
However, it's a possibility, as credit bureaus are independent of any repair service.
How long does CreditRepair.com take to repair your credit?
The length of time is dependent on the person & their unique credit situation. That holds true whether you're hiring a company, or if you're DIY'ing your credit repair process.
Are there discounts for couples, families, or active military?
CreditRepair.com doesn't seem to offer any of the above discounts. The only discount they offer is time-based and depends on the time of year.
What are CreditRepair.com's hours?
Enrollment Center:
Monday – Friday: 7:00 AM – Midnight EST
Saturdays: 9:00 AM – 11:00 PM EST
Sundays: 9:00 AM – 10:00 PM EST
Member Services:
Monday – Friday: 8:00 AM – Midnight EST
Saturdays: 10:00 AM – 7:00 PM EST
Sundays: CLOSED
What is CreditRepair.com's Phone Number?
1-833-841-1600
How Do You Cancel a CreditRepair.com Membership?
To cancel your membership, contact CredtRepair.com directly using the contact information listed on the website. All you need to do is request that you no longer want to be a member.