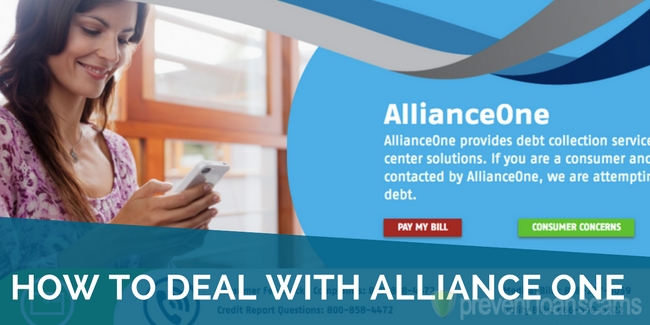 Debt collectors can find their way onto our credit reports and into our lives through our mailboxes, computers, or phones asking us to pay old debts.
Sometimes we remember these debts; other times we don't. And sometimes, the debt was never even ours to begin with.
If Alliance One has contacted you to collect a debt, you may be wondering: Who Is Alliance One and how does it operate?
Rest assured, you can manage the situation effectively with a little background knowledge.
Who is Alliance One?
Alliance One, a subsidiary of Teleperformance USA, contracts with financial services companies, credit card lenders, health care providers, and government agencies to collect delinquent payments and other debts.
Alliance One is a debt collector but not the owner of any debt. Unlike other debt collection agencies, Alliance One does not buy old debt and then collect on accounts for profit.
Instead, Alliance One works as a third party collections agency to collect past-due payments on behalf of other entities. Then, the original creditor pays Alliance One for its help collecting the debt.
If Alliance One gets in touch with you about a debt, the original creditor still owns your account and your debt.
Alliance's parent company, Teleperformance USA, is a call center. It provides technical support and billing services for well-known companies such as DirecTV, Verizon, and United Healthcare.
This expertise in call center strategies applies to debt collections, too, which helps make Alliance One particularly effective and persistent.
What Can Alliance One Do?
As its name indicates, the company acts in alliance with the partner firm that actually owns the debt. Often, Alliance One collections work to collect debt on behalf of health care providers, auto lenders, personal loan lenders, and local governments.
Whether you owe credit card debt or parking ticket fines, Alliance One could be contracted to collect payments from you. They have the right to call, text, email, or snail mail you in their attempts to collect this debt.
If your debt is still within the statute of limitations in your state, then Alliance One could take you to court and sue you for the debt's repayment.
Each state has different rules regarding the amount of time a creditor has to sue you for an unpaid debt, so check for your state-specific time frame. If your debt's statute has expired, you cannot be successfully sued to recover the debt.
Alliance One can also report your debt to a credit reporting agency. Just like with other debt collecting agencies, Alliance must comply with the Fair Credit Reporting Act (FCRA) when they decide to list the account on your report.
What Can't Alliance One Do?
Alliance One Cannot:
Call you before 8 am or after 9 pm in your time zone.
State that you can be sued for the debt when they cannot legally do so or intend to do so.
Collect more than the amount owed if it was not part of the debt agreement or allowed by law.
Send you a postcard about your debt.
State that you will be arrested if you don't pay the debt.
What Should I Do If Alliance One Contacts Me?
When you get a call from a debt collector, you may be tempted to avoid answering the phone or responding to the email or text.
You should do the opposite. Because debt collectors must legally comply with the Fair Debt Collection Practices Act (FDCPA), you can gain more by answering the phone.
When answering the phone or opening any type of written communication, you should take note of:
What the debt collector states you owe.
To whom you owe the money.
The dates you opened the account.
When you were first late on a payment.
The date your lender sent the account to collections.
These important facts will help you verify the debt.
You have the right to ask for debt verification which the creditor should send you within five days of contacting you. Because Alliance One works in partnership with your creditor, your rep should have this information available.
While speaking to a representative, you should note his or her claims. Also, note any actions the representative proposes. And write down the time of the call. You'll need to know this in case the representative uses illegal tactics or makes false claims.
If the account is listed on your credit report, you have the right to validate the debt and dispute it. If you are not sure how to do this, you could get help from a credit repair company that will communicate on your behalf.
Complaints About Alliance One
As you can expect when dealing with any call center, you may encounter a less-than-knowledgeable or unhelpful representative. This is not indicative of call center employees as a whole, but this sort of experience can leave you with negative feelings about a company.
Consumers who have dealt with Alliance One's reps have complained about the agency's response to a debt verification request. Reps have asked for consumers' Social Security numbers and dates of birth in response to verification requests.
This may be standard practice if you already have an account with a company. However, if you are wanting to verify that the agency's information is correct, refuse to give out your full Social Security information in case you encounter an unscrupulous employee.
Instead, ask to have the information sent to your address on file and then confirm your identity this way instead of by providing sensitive data such as your Social Security number.
Other complaints about Alliance One state that the agency reports debts that are not the same as the original creditor. For instance, a complainant stated in our research that Alliance One contacted them about a debt they had already paid months prior, stating he owed more money for the same traffic violation.
Several complainants have stated that Alliance One has tried to rehash old debts and request payment, even reporting the items on their credit report.
How To Remove Alliance One From Your Credit Report
If Alliance One, or any debt collector, practices debt collection by questionable means, it is best to ask the credit bureau listing the debt to delete the debt from your record. This way, both agencies must comply with producing accurate information.
Debt Validation
First, ask for debt validation. This will take approximately 30 to 45 days. Be patient, as this process can save you hundreds or thousands of dollars if you succeed.
If the debt is not yours or if Alliance One cannot prove it is yours, the collection service must delete this debt from your report.
Validation of Dates
If the debt returns as yours, you can ask for validation of dates. Complaints against debt collectors, like Alliance One, often include a tendency to collect and report the debt that's 10 years old or older.
If the date of your first delinquency is more than seven years ago, ask for deletion due to the debt being outside of the reporting period.
Pay For Delete
If the debt is yours, you can also call the original creditor. Try resolving the debt by asking for deletion upon payment, making sure to have their acceptance of these terms in writing. This is a pay-for-deletion tactic, but it also ensures you satisfy your original debt without paying excessive debt collection fees.
If you have documents that prove you paid a debt, but Alliance Once states that you still owe money, you can submit copies, along with a letter to the credit bureau indicating their error and to have the bad mark deleted.
You could also use the same copies to send a cease and desist letter to Alliance One to ask them to stop contacting you.
What If You Owe But Can't Afford to Pay the Debt?
If Alliance One validates your debt and insists that you pay in full but you can't afford to pay the debt, you still have options.
Start with the proactive approach of contacting Alliance One and asking to set up a payment plan. Be absolutely sure you get your payment plan's details in writing before you start paying.
Also, make sure Alliance One will not report your debt to the credit bureaus while you're making your payments by including that provision in your payment plan's details.
All of this should be included in a written document to avoid confusion later. It's OK to start the process over the phone but be sure you have the final payment plan agreement in writing.
Alliance One Contact Information
You can write to Alliance One's United States location nearest you:
Headquarters:
Trevose, Penn.
4850 E. Street Road, Suite 300
Trevose, PA 19053
San Diego Office
6160 Mission Gorge Road, Suite 300
San Diego, CA 92120
Washington Office
6565 Kimball Drive, Suite 200
Gig Harbor, WA 98335
Arizona Office
4251 Enterprise Way
Sierra Vista, AZ 85635
Indiana Office
1901 North Wind Parkway
Hobart, IN 46342
Ohio Office
1684 Woodlands Drive, Suite 150
Maumee, OH 43537
Kentucky Office
9721 Ormsby Station Road
Louisville, KY 40223
Texas Office
1701 S Closner Boulevard, Suite A
Edinburg, TX 78539
Illinois Office
12 Northpoint Dr.
Streator, IL 61364
Phone numbers for Alliance One
Court or Government Debt: 866-897-5349 or 877-541-8420
Credit Card Accounts: 877-480-5110
Utility Accounts: 866-590-6322
Medical Debt: 888-237-0059
General Consumer Feedback: 800-858-4472
Credit Report Questions: 800-858-4472
Online Forms
You can also get in touch with Alliance One through the company's contact form online. Be sure to fill out the required fields, and remember to get any payment plan agreements in writing before making payments.
Your Rights If Contacted By a Collection Agency
Under the Fair Debt Collection Practices Act (FDCPA) you have the right to:
Verify the debt.
Ask a debt collector to stop calling you.
Not be harassed by a debt collector.
Sue for damages if the debt collector uses illegal practices.
Always exercise caution when anyone calls you claiming you owe a debt. Many scammers use the same tactics. Several of my co-workers and I received a call on our work lines that we owed the IRS money and that police would arrest us if we did not return the call.
Of course, we did not return the phone call, but some people aren't aware they can be victims of these kinds of fraudulent acts. That's why it is important to know who you're are dealing with before freely giving out information.
Alliance One is not a scam. In fact, AllianceOne Receivables Management, Inc., which is the company's official name, has an A+ rating on the Better Business Bureau (BBB).
But some scams do use similar names and tactics. To be safe, never pass out your Social Security number or any other personal financial information over the phone.
Conclusion
Always verify any attempt someone makes to try to collect money or your Social Security number. Although companies like Alliance One may offer debt recovery solutions legally, this does not mean they always provide excellent customer service to settle the debts.
The best way to verify a debt is if it appears on your credit report, meaning you have the credit bureau as the intermediary. Requesting verification of debt forces the Alliance One to comply with both the Fair Debt Collection Practices Act and the Fair Credit Reporting Act.
If you are not sure how to ask the credit bureaus to involve themselves, you can hire a credit repair firm to operate on your behalf, often for a low monthly payment. This will allow you to continue on with your day-to-day tasks without having to respond to multiple emails regarding your dispute.