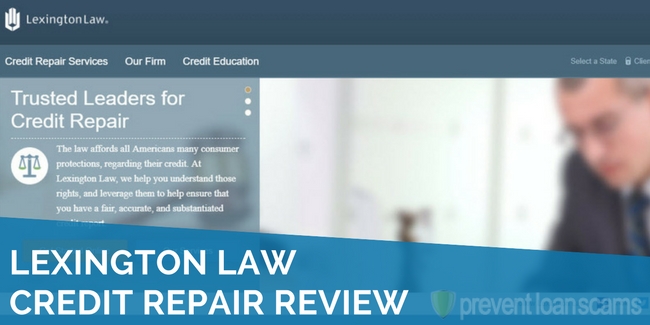 Lexington Law Credit Repair ranked #2 in our review of the best credit repair companies.
Among the positives, we like:
Knowledgeable paralegals
Over a decade of getting results for their clients
One of the only law firms in the credit repair industry
The firm's credit repair packages start at $89.95 per month for the "base" package. The mid-range offering costs $109.95 per month, and the top-range "PremierPlus" costs $129.95 per month.
We're not fans of the rather complicated pricing structure. Firms who do this generally don't score as well in our research.
The base-level "Standard" package will likely be enough for most potential customers. Especially if you are only looking for one thing: credit repair. Yet, Lexington's 'upgraded' packages may offer worthwhile benefits for certain credit repair cases.
The firm's expanded service offering, long track record, high marks for customer service, and relatively robust freely-available educational resources helped Lexington Law to a PreventLoanScams.org rating of 9.4 out of 10.
Our Lexington Law review dives further into the Pros & Cons, and answers frequently asked questions potential customers may have about the service.
What We Like About Lexington Law
Our review led off with a few of the primary 'Pros' we like about Lexington Law. We'll dive a bit further into those key points here.
Lexington Law ranked a close #2 in
our research
of the top companies in the industry.
1. Popularity, Long History & Reliability
First of all, a few key 'high points'.
One thing is clear after just an ounce of research in this industry: Lexington Law is everywhere.
Blogs and industry sources discuss this firm frequently for two core reasons:
Lexington has been a pioneer in the credit repair industry, helping clients get fair, accurate, and verified credit reports.
Good marketing.
Lexington's record as a reputable option for credit repair spans over a decade. This history helps cement the firm as one of the longer-tenured companies in the industry.
Lexington has positioned itself through partnerships with online blogs and its robust advertising budget to be one of the first names a customer might come across in their initial research.
And, with a successful marketing campaign generally comes an increase in a company's popularity.
The firm's reputation is also relatively more exposed to scrutiny as one of the more popular choices for credit repair.
We ultimately like this exposure.
Lexington, as one would rightfully assume, wouldn't be one of the premier names in the industry without having achieved solid results for its past clientele.
No, the answer to "what company should I hire," no matter what job or service you're hiring for, shouldn't necessarily always be "the largest one."
In the credit repair industry, though, it's important to place a high value on a firm's actual history of working for & obtaining results for its clients.
2. Personalized Support
Negative credit situations can often be very personal, sometimes-embarrassing topics to discuss. That can be true with anyone, whether your conversation partner is a trained paralegal or a family member.
New customers to Lexington receive a dedicated account representative from their staff of paralegals who will work with the customer throughout their time with firm.
We like this personal touch.
As a result, you'll have a familiar voice to discuss your case with as a customer of Lexington Law.
But, perhaps more importantly:
A personal case advisor who knows your credit situation on a more intimate level than a general call center might be the key difference-maker between a credit report that sees positive results after a repair process, versus a report that stays a stagnant.
3. Better Customer Service Hours
Most credit repair companies only offer customers service during regular business hours.
However, Lexington Law Firm offers an expanded range of hours where you can contact them.
Not quite a 24/7 help line, but with availability both before and after business hours during the week, and time slots on the weekend, there's more to work with here than other companies in the industry might offer.
4. Actively Responds to Consumer Reviews
We admire of the firm's willingness to engage with their customer base on certain open forums (particularly on their BBB profile), regardless of whether the reviews are positive or negative.
The reviews are fairly mixed, but they seem to lean more towards the positive.
Something important to us from our research:
Many of the negative comments stated that they didn't receive the level of service they'd expected, or people were under the impression that there were guaranteed results. There's nowhere on their website that says they guarantee anything, for every credit situation is unique to each individual. Reviews like this are subjective; someone who had received the same service could've felt satisfied with the results.
As for the positive reviews, most members commented about how while it might've taken longer than they anticipated, Lexington Law exceeded what they thought was possible for their credit. Others said that the service provided by Lexington lined up perfectly with their expectations, receiving exactly what they hoped to.
Lexington appears to make an earnest effort to ensure their past clientele are happy with the service they received, and thank them for the time they employed them for. If someone's had a negative experience or complaint, the firm does their best to mend their relationship with the client.
5. Quality Educational Resources
To be frank, most credit repair companies aren't going to be able to offer Pulitzer-winning material on ways to improve your credit score. That type of information generally doesn't get more complicated than what one can find with a simple Google search.
Agencies in this industry offer one core service (for the most part): credit repair. Customer education just isn't a strong-suit from firm to firm.
However, Lexington Law Firm makes an effort to inform their clients and potential clients, not only on their options regarding credit repair, but also in any questions around the topic. The credit education tab on their website provides eight key categories for you to explore, giving you a closer look at every aspect of credit.
Aside from the eight main topics listed below, they also have a blog with hundreds of articles containing information pertaining to all things credit:
Credit 101 (including information on credit reporting laws)
Credit repair
Credit bureaus
Improve credit score
Negative items
Life events
Loans
Credit cards
Lexington Law's resources here are expansive, if-not exhaustive. While not necessarily a sure-fire reason to hire the firm to improve your credit, we see this is a "plus" for the firm's helpfulness rating.
What We Don't Like About Lexington Law
The downsides we've found for those interested in Lexington Law's services:
1. Complicated Service Levels
When signing up with Lexington Law, you're presented with three service levels at the following prices:
$89.95 per month: Concord Standard
$109.95 per month: Concord Premier – their most popular plan
$129.95 per month: PremierPlus
We prefer credit repair companies to offer their service at one, straightforward rate.
Lexington's price tiers are well-removed from straightforward.
In our opinion, most potential credit repair customers should only need their basic, Concord Standard plan ($89.95 per month).
The Standard plan includes Lexington's full Bureau Challenges & Creditor Intervention services. This service would appear to be all you need if you're simply looking for a company to repair your credit.
With their PremierPlus plan ($129.95/month), you receive bureau challenges, creditor interventions, inquiry assist, score analysis, report watch, TransUnion alerts, cease and desist letters, FICO score tracker, identity protection, and personal finance tools.
If you purchase their most popular plan, Concord Premiere ($109.95/month), you'll receive everything minus cease and desist letters, FICO score tracker, identity protection, and personal finance tools. And for their basic plan, Concord Standard, you only receive bureau challenges and creditor interventions.
2. Additional Fee for Credit Report Pulls
Customers enrolled under the Concord Standard plan pay an extra $14.99 fee for each credit report pull Lexington Law requires.
We would like to see these credit pulls included in Lexington's service, rather than charged at an extra rate.
In fact, their mid-range Concord Premier & top-tier PremierPlus plans include credit monitoring.
Premier and PremierPlus subscribers should expect the $14.99 fee waived if your repair requires extra credit report pulls.
Keep in mind: monthly pulls of your credit report are common in any repair to track the repair's progress.
3. Potential for Long Hold Times
Past customers have written about their experiences with rather lengthy hold times when calling in to Lexington Law's customer support.
Remember the positives we spoke of regarding the personal paralegal assigned to your case?
This is the less-stellar other-side of the coin.
Wait times to speak with Lexington are not particularly exciting, especially with a single point-of-contact.
However, the firm does make a handful of other communication options available to its customers:
4. Not BBB Accredited
BBB (Better Business Bureau) accreditation provides businesses with a third-party validation of the company's legitimacy and ethics.
Unfortunately, Lexington Law Firm is not accredited by the BBB. This shouldn't be a deal breaker though, for the firm does seem to operate with integrity.
Yet: other, smaller firms in the industry do maintain BBB accreditation. It's somewhat strange Lexington, with its abundant resources, doesn't enlist for its own accreditation.
However, accreditation by the BBB largely comes down to just paying your yearly dues.
The fact Lexington Law doesn't engage in paying those dues doesn't necessarily register as a strike against their company's ethics, so much as it does a strike against the company's own robust marketing program.
Lexington Law Reviews
Our research of past customer reviews found the majority to be positive-leaning.
Most credit repair companies field a mix of both good & bad reviews, and Lexington Law is not an exception.
Negative reviews largely dealt with unmet expectations in one form or another.
Taking a closer look at the negatives people say about a company (or product) tends to be more informative.
The top 3 common complaints:
1. Billing discrepancies
Some reviewers have complained about their first work fee being different than expected. Lexington Law will charge a "First Work Fee" 5-15 days upon a customer's sign up.
(By law, a credit repair firm cannot charge a customer before the firm has begun work on the customer's case. Hence the delay in charge.)
What the firm doesn't make clear is that they bill in arrears, which means their clients are billed after they receive their services. Clients mistake this for being charged for services they never received. If Lexington made this clear, we believe there'd be fewer misunderstandings and disappointments regarding the subject.
2. Repaired Items Changed After Program Completion
Past customers of Lexington Law have lamented the re-occurrence of negative items on their credit report after the firm removed those same items.
In particular, the firm's representatives have reached out to past customers in these situations to explain Lexington:
"…cannot control the actions of creditors and other third parties after disputing items."
Negative items removed from your credit report can reappear on your report if later found to in-fact be legitimate
If a negative item pops up again, you can try to have the item removed again.
But, the success rate of removing a legitimate negative from your credit report is low. Especially after an initial removal & reappearance.
3. Not A 'Quick Fix'
One client on Yelp noted while Lexington Law's services achieved their intended results, they felt that the firm was "milking the clock".
The same client also noted that it took a longer time to achieve the intended results than expected.
Yet more reviews come from customers dissatisfied because their reports weren't clean after 1-2 months of service.
This is also a common complaint among virtually all companies, industry-wide.
As we've mentioned before, hiring a credit repair company is not a quick fix.
A repair program can take 4-6 months to see beneficial results on average (if not, longer).
Ideally, some visible results in the form of credit score increases or cleaner credit reports could happen after just a month or two.
But, patience is critical with any repair process – whether you hire a firm or DIY.
Mileage May Vary
In the end – no single credit report will be identical to another, and some items simply may take more effort (thus, more time) to remove.
It's not surprising to find complaints of delays when delays are virtually inevitable by the nature of the credit repair process.
When to Use Lexington Law?
There are numerous instances in which one should employ Lexington Law.
If you have a problematic credit report, Lexington Law is a well-positioned and highly-acclaimed firm to hire (in fact, it is one of our top recommended firms here on PreventLoanScams.org).
Other scenarios where Lexington Lay may be of assistance:
You need to have items removed from your credit report
Any questions about your credit report and the information contained therein
You need consultation about the best course of action to take in regards to your credit report
In a nutshell, this firm can likely help you work to remove almost any unfair, inaccurate, or unverified item on your credit report.
There are numerous credit items you can handle yourself, but consulting credit professionals like Lexington Law if anything is in question can be a wise decision.
What Can Lexington Law Remove From Your Credit?
Lexington Law advertises they can remove virtually anything removable from your credit report.
The firm has a working relationship with all 3 credit bureaus. Lexington also invokes several consumer protection statutes on behalf of their clients to help remove negative items from credit reports.
What The Firm Can Challenge (and potentially remove):
What The Firm Cannot Remove
Actual Debts. Debtors must show evidence that you owe a debt. If they can do that, generally you cannot have the mark removed from your credit report.
Actual Inquiries. Same as above. If a company can show you did give permission to pull your credit, they can legally report that activity.
How Does Lexington Law Repair Your Credit?
First, Lexington Law retrieves each client's individual credit reports from all 3 credit bureaus.
Lexington Law's paralegals and lawyers then comb through the client's credit report to identify credit issues.
The firm invokes consumer protection statutes to help protect clients and determine what to challenge and/or overturn.
The company then sends several letters (similar to our credit repair letter examples) to all 3 credit bureaus on behalf of their clients in regards to each individual line-item issue.
Lexington Law also offers advice to their clients on what actions the client should personally take in order to increase the chances of having certain issues resolved.
In addition, the company's follow up service through their app allows you to continually check on correspondence from credit bureaus and other agencies regarding the status of your credit report.
The company will communicate with your individual creditors to help maintain your score and ensure its protection.
With their 'InquiryAssist' tool, the company allows customers to manage the negative impact creditor inquiries can have on their credit scores through inquiry removal letters.
Lexington Law also gives their clients detailed credit reports on a monthly basis, so the customer can remain vigilant and identify any abnormalities they may potentially choose to challenge.
Additionally, Lexington Law includes training on how to challenge credit report issues in the future outside of working with the firm.
How Much Does Lexington Law Cost?
As mentioned earlier, Lexington Law offers a tiered service with three different price levels. The tiers are as follows:
Concord Standard: $89.95 per month
Concord Premier: $109.95 per month
PremierPlus: $129.95 per month
The Concord Standard Plan: clients receive Bureau Challenges and Creditor Interventions.
The Concord Premier Plan: clients receive Bureau Challenges, Creditor Interventions, InquiryAssist, Score Analysis, ReportWatch and TransUnion Alerts.
The PremierPlus Plan: the company's highest service offering. In this package, clients receive all of the benefits of the Concord Premier with the additional perk of having the firm send Cease & Desist Letters to respective parties. PremierPlus subscribers also receive a FICO Score Tracker, Identity Protection Services and "Personal Finance Tools."
What to Expect When Signing Up
As soon as a client signs up with the Lexington Law firm, a paralegal will contact them as their personal representative within 24-48 hours.
Afterwards, the paralegal will obtain necessary details from the client to retrieve credit reports from the three major credit bureaus: TransUnion, Experian and Equifax. Lexington will then reach out to the client themselves to explain & identify which credit report issues Lexington finds to be most pertinent and eligible for challenge.
The paralegal will then direct the appropriate correspondence to creditors and reporting bureaus.
There will be a brief waiting period. Lexington Law mentions on their website results may vary, and there are a number of different measures the firm may use to dispute/remove certain items on a customer's credit report. Exact timing will depend on what processes are necessary to remove certain items from your report.
The client then receives a credit score analysis when the items in question are fully resolved (if the customer has purchased a Concord Premier Plan or higher).
The final step(s) will consist of consistent follow up & escalation of any remaining issues..
What Results Can You Expect From Lexington Law?
Most clients could expect to have a successful experience dealing with Lexington Law, but every client has different items on their credit report, making results vary.
The firm's long history and experience in the industry has created an effective process for the elimination of negative items on their clients' credit reports.
Clients can expect to have an accessible, remarkably-responsive team in Lexington Law (albeit with the possible complaint of long hold-times).
Lexington Law does not offer results guaranteed. Potential customers should not also misconstrue past-customer results shared on the firm's website (including those who saw a rise in their credit score or report) as a promise for your own repair program's outcome.
Clients can expect to receive a thorough and in-depth follow-up. This process should enable the customer to manage any potential problems in their credit report post-repair.
Company Background
Lexington Law began its practice in 2004. The firm began by offering credit repair services, and eventually expanded into offering additional related services.
The firm's base of lawyers & paralegals now covers over 15+ states in the U.S.
Who Owns Lexington Law?
The Directing Attorney of Lexington Law is John C. Heath.
Heath has served as the Directing Attorney of Lexington Law since 2004. With a background in litigation, Health has helped grow the firm during his tenure.
Lexington Law continued its ascension under Heath's leadership as one of the nation's most popular credit repair firms.
Where is Lexington Law Located?
Lexington Law's headquarters are in Utah.
The firm also has locations in Arizona, Alabama, California, Delaware, Illinois, Indiana, Louisiana, Maine, Maryland, Michigan, Mississippi, Nevada, North Carolina, New York, Ohio, Pennsylvania, West Virginia, South Carolina, Virginia, and New Mexico.
Frequently Asked Questions (FAQ)
Does Lexington Law Offer a Guarantee?
Lexington Law does not offer a results guarantee.
The firm acknowledges every client's case is unique, and there are certain nuances that can lead to differing results from one individual to another.
Lexington Law does, however, tout an extremely high success rate.
Is it Possible for Deleted Items to Reappear on Your Credit Report after Working With Lexington Law?
Lexington Law acknowledges the possibility of items possibly reoccurring on your credit report upon concluding their work.
Consequently, the agency offers their follow-up service to past customers to remedy this situation should the need arise.
How Long Does the Company Take To Repair Your Credit?
Lexington Law does not offer upfront guarantees or estimates as to the time it may take to repair your credit.
As every customer's case is unique, the length for each individual case may vary.
However, Lexington Law will begin working on your credit repair service as soon as possible upon sign-up.
Is there a Couples, Family or Active Military Discount?
Lexington Law offers a Family discount. If you sign up a family or household member within 72 hours of your original sign-up, each party (you and your referred member) will receive 50% off their first work fee.
Yet, this discount will not also apply to you or your referred member's additional monthly payments.
Also, the firm does not offer a military discount.
What are Lexington Law's hours?
Monday – Friday: 8:00 AM – 12:00 AM (EST)
Saturday: 9:00 AM – 11:00 PM (EST)
Sunday: 9:00 AM – 10:00 PM (EST)
What is Lexington Law's Phone Number?
How to Cancel Your Lexington Law Membership?
You can cancel your membership by phone, chat or e-mail.