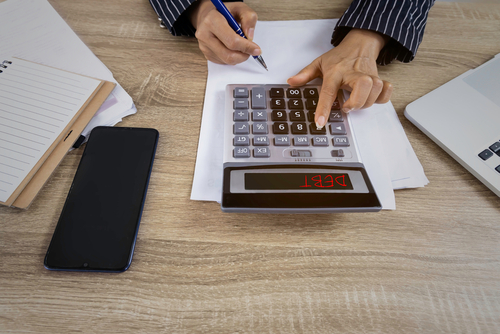 Have you been hearing from a company called NCO Financial Systems? It is probably because of an old debt that has come back to bite you.
They are one of the largest debt collectors out there. They work with companies that are having trouble recovering payment on delinquent accounts.
If you are getting calls from them, it's because you have failed to pay one of your bills that they are now trying to collect.
This can mean trouble for both your finances and your credit health.
Before they can contact you for payment, they must first open a collections account in your name.
This account will appear on your credit reports with the major credit bureaus and will impact your score for as long as seven years.
The best way to stop NCO Financial Systems' collection attempts and improve your credit in one fell swoop is to remove this account from your credit report.
What is NCO Financial Systems?
Originally founded in 1926, NCO Financial Systems is a large debt collection agency that is currently headquartered in Horsham, PA.
They were publicly traded between the years 1996 and 2006.
Between these years, they were purchased by One Equity Partners, which is an investment arm of J.P. Morgan Chase & Co.
In 2008, they acquired Outsourcing Solutions, Inc. (OSI).
They currently employ over 30,000 people across over 100 locations worldwide.
They report an annual income in excess of $1.5 billion.
If you are overwhelmed by dealing with negative entries on your credit report,
we suggest you ask a professional credit repair company for help.
Does NCO Financial Systems Have Any Complaints?
It should come as no surprise that, as one of the world's largest debt collectors, NCO Financial Systems has had many unhappy clients over the years.
However, it is relatively difficult to find out how many complaints people have filed.
Despite its enormous size, they don't have an official company website. Additionally, there are dozens of BBB profiles that all relate back to them.
This makes it nearly impossible to know for certain how many complaints they have against them.
Since its founding, NCO Financial Systems has been the defendant in at least 29 civil litigation cases. These cases have alleged abuses of federal consumer law by the company.
This includes aggressive collection tactics, failure to validate debts, and inaccurate reporting.
You should familiarize yourself with federal consumer protection acts, such as the FDCPA and FCRA, as soon as you hear from the debt collector.
This will help you understand what a debt collector is and isn't allowed to do when soliciting payment from you.
How to Deal with NCO Financial Systems
Here are the three steps you need to take to deal with NCO Financial Systems and get the collection off your credit report.
Write a Goodwill Deletion Letter
Having a debt move to collections is sometimes an unavoidable consequence of a larger issue.
If you believe that your debt is due to circumstances out of your control, you can write NCO Financial Systems a goodwill deletion letter.
Goodwill deletions are granted by debt collectors that believe a customer is owed a little mercy over their debt.
They may grant you one if you were laid off, had a medical emergency, or experienced another financial crisis that prevented you from making payments.
To ask for a goodwill deletion, write a letter to NCO Financial Systems politely explaining your situation.
Let them know what specifically was going on that prevented payments and provide documentation that corroborates your claims.
If they accept your reason, they will grant you a goodwill deletion. They will contact the credit bureaus and remove their entry from your credit report.
It is worth noting that they will only grant you a goodwill deletion if you have paid the entire balance of the debt.
You should not ask for a goodwill deletion unless you have fully settled up with them.
Send a Section 609 Letter
Getting a debt collector to agree to a goodwill deletion is easier said than done.
If you need to go another direction, you should send NCO Financial Systems a Section 609 letter instead.
The debt collection process is far from perfect. Companies can sometimes pass along incorrect information to a debt collector, which may lead to inaccurate reporting.
To avoid paying a debt based on inaccurate reporting, you should invoke your rights under Section 609 of the Fair Credit Reporting Act (FCRA).
Section 609 of the FCRA states that a debt collector may not report information that is outdated, inaccurate, or categorically false to a credit reporting bureau.
NCO Financial Systems may be in violation of this section if they have incorrect information regarding your debt.
To determine if they are reporting inaccurate information, you will need to request debt validation through a Section 609 letter.
Start by crafting a letter using a template and filling it out with your account information.
Once you are done, send it to NCO Financial Systems no later than 30 days after you first hear from them.
They should respond to your request to validate the debt within 30 days of receiving your letter.
If they are unable to validate the debt, they must contact the major credit bureaus and remove their collections account.
Negotiate a Settlement
Removing a collections account through a Section 609 letter can be a long shot.
If NCO Financial Systems confirms that they are reporting your information accurately, your next step is to negotiate a settlement with them.
The debt collection industry is tricky. There are plenty of people that don't bend to debt collectors' efforts, which can lead to a very frustrating experience for both parties.
If you approach them with a willingness to settle, it's possible that they will remove their collection entry from your credit report as a part of the settlement.
Start by offering to pay them half of the total balance in exchange for them to remove their account from your credit report.
This is known as a pay-for-delete agreement.
They will probably reject your initial offer, which is ok. Work with them to come to a reasonable payment amount at which they'll delete the collection account.
Once you come to a compromise, ask them to send the full agreement on one of their official letterheads. This will give you physical proof of the agreement in case you need to refer to it later on.
After you make your first payment to NCO Financial Systems, they should contact the credit bureaus to remove the account.
Monitor your report during this time to ensure their account disappears after about 30 days.
Hire a Credit Repair Specialist
NCO Financial Systems is an enormous company, so they are more likely to reject settlement attempts directly from consumers.
This is a case in which it would be in your best interest to hire a credit repair specialist.
Credit repair specialists act as a go-between for customers and debt collectors.
They know exactly what to say and do to get NCO Financial Systems to agree to remove their collection account from your credit report.
It is best to do your research before you hire a credit repair company.
Luckily, we have compiled a list of some of the best companies out there to help you choose.
NCO Finacial Systems Contact Information
Mailing Address: 507 Prudential Road, Horsham, PA 19044
Phone Number: 208-375-9640
Website: n/a
Conclusion
Going up against a large debt collector like NCO Financial Systems can feel like David fighting Goliath.
However, you can be successful by learning and enacting your consumer rights and working with a credit repair specialist.
If you have any additional tips regarding NCO Financial Systems, we would love to hear from you.
Please leave a comment below to help others repair their credit after collections.