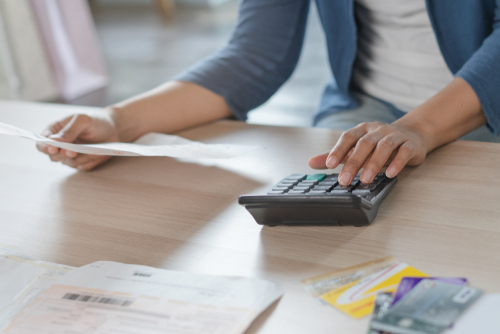 If you've noticed an entry from Professional Finance Company that's dragging down your score, you are probably wondering how you can remove it.
They are a third-party debt collector that has been hired to recover an unpaid bill from you.
If they are listed on your credit score, odds are you've heard from them as well.
As frustrating as they are, debt collectors can have an even more serious effect on your credit score.
Their entry on your credit report can remain for as long as seven years and lower your score by as much as 100 points.
Dealing with Professional Finance Company is no easy feat, but there are steps that you can take to stop them in their tracks.
About Professional Finance Company
Professional Finance Company is a medium-sized debt collection agency out of Greeley, CO.
It originally opened for business in 1953 in Colorado and was incorporated in 1985.
According to their website, they collect debts throughout the states of Colorado and Wyoming.
Their annual revenue sits at about $23 million, and they employ 185 people out of their headquarters location, and are currently managed by president, Michael Shoop.
The company operates within a variety of industries and offers a number of services to their clients.
They offer collection services in the form of debt recovery, self-pay early-out, and debt purchasing.
Their clients include financial institutions, consumer retail lenders, healthcare providers, and government agencies.
If you are overwhelmed by dealing with negative entries on your credit report,
we suggest you ask a professional credit repair company for help.
Does Professional Finance Company Have Any Complaints?
Professional Finance Company has been in business longer than the average bear, which means they also have more complaints than other debt collectors.
Currently, the company has 23 complaints filed with the Better Business Bureau (BBB) and 252 complaints with the Consumer Financial Protection Bureau (CFPB).
The majority of complaints are regarding FDCPA violations, such as inaccurate reporting or aggressive customer service representatives.
If you believe that Professional Finance Company has violated your consumer rights, you should also consider filing a complaint.
The CFPB is in charge of enforcing consumer law, so they would be a good agency to start with.
How to Deal with Professional Finance Company
You can get rid of the collection account on your credit report with three steps:
Send a Debt Validation Letter
One of the most important and urgent steps to take when dealing with Professional Finance Company is to send them a debt validation letter.
When a debt collector acquires your debt, the process is often unorganized and hurried.
Your original credit is eager to get rid of the delinquent account. And they are just as eager to start collecting it.
This means that the information that is sent along to the credit bureaus may not be entirely accurate.
They could have confused your account information with someone else's. Which means essential information about your debt is erroneous.
The best way to ensure that the information being reported about your debt is correct is to send Professional Finance Company a debt validation letter.
You only have 30 days to send this letter, so it's important to get down to business.
Start by downloading a debt validation letter template off the internet and filling it out with your account information.
Send this letter to them as soon as possible, here is their mailing address:
Professional Finance Company
PO Box 1686
Greeley, CO 80632-1686
They should process your request within 30 days of receiving your letter.
They should come back with documents meant to show that the account is yours and that they are allowed to collect it.
Go through each page of these documents and note anything that appears inaccurate.
If you find information that contradicts what you have, you can report this to the three major credit bureaus.
The credit bureaus should investigate the claims and remove Professional Finance Company's account accordingly.
This is a way that you can clean up your credit report and get out of paying the debt in one fell swoop.
Work Out a Settlement
If Professional Finance Company is able to validate your debt, you'll need to move on to the next stage of your plan: working out a settlement.
The most common type of settlement that consumers make with debt collectors is known as a pay-for-delete agreement.
As the name implies, a pay-for-delete agreement involves paying the debt collector for a portion of the debt in exchange for their collection account to be deleted from your credit report.
A debt collector likely paid pennies on the dollar for your debt. So you can often get away with negotiating down from the full balance of the debt.
To start, offer them anywhere from 30% to 50% of the total balance in exchange for an account removal.
Don't be surprised if this offer is rebuffed. Instead, keep moving the needle upward until you get to an amount that they are comfortable receiving in exchange for deleting the account.
Once you reach a compromise with Professional Finance Company, ask them to send the written agreement on a company letterhead.
Hang onto this note in case you need to refer to it in the future.
They should remove their account from your credit report within a month of receiving your first payment.
If you notice their account after 45 days, remind them of the agreement that you have and encourage them to get a move on.
Still No Luck? Hire a Professional
If you're having trouble getting anywhere with Professional Finance Company, you should consider hiring a credit repair company to deal with them for you.
Credit repair companies specialize in identifying and removing damaging accounts from people's credit reports.
They will work with the collection agency on your behalf to help boost your score and stop their collection efforts.
It is highly important that you work with a trustworthy company in order to get your money's worth. Personally, I advocate for working with Lexington Law.
Lexington Law has helped customers go up against companies like Professional Finance Co. for nearly three decades.
They have an exceptional customer service team and improve your credit health with little effort on your part.
Conclusion
Going head-to-head with Professional Finance Company is not an enjoyable experience. However, it will serve you well in the long run.
Much of your credit score is determined by your history of debt and collections.
This means that any dings from companies like Professional Finance Company will weigh heavily on your score.
To make sure that you qualify for loans and mortgages in the future, it is best to remove these accounts before they can take their toll.
In essence, deal with Professional Finance Company now so that you can save money on interest rates in the future.
Do you have any tips on how to deal with companies like Professional Finance Company? Leave your advice in the comments section below.