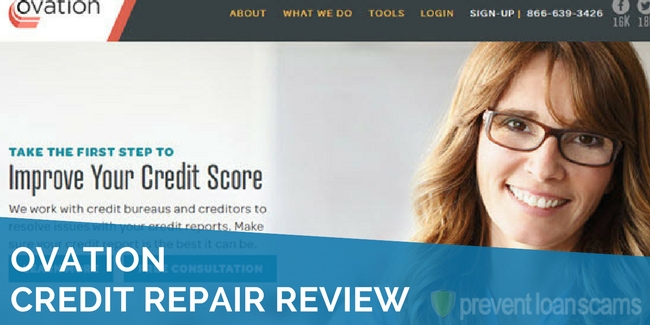 We've identified several positives for potential customers, and a few negatives, in our Ovation Credit Repair review.
Ovation appears to set itself apart as a credit repair company by offering a high degree of service for a relatively cheap price.
Despite being a fresh face in the industry, Ovation has pioneered a new process in the age-old credit repair system. The company offers an innovative plan allowing customers to appoint which features they would like in their credit repair process.
In our estimation, this feature not only helps to maximize customer satisfaction, but may also give Ovation Credit a better opportunity to help their clients.
This review will explore Ovation Credit further, and assess their competency as a credit repair company.
What We Like About Ovation Credit
Ovation is accredited by the BBB, and currently holds an A+ rating (as of June 30, 2019) with the consumer watchdog firm.
Prospective customers are eligible for a free consultation, and can access their account via the firm's free mobile app.
The firm offers various payment plans for customers to choose from, starting with their relatively inexpensive, low-cost plan. Potential customers should be able to find something best suited to their financial needs and interests.
Their website's design is sleek and modern. A scrolling list of commonly overlooked credit repair facts is provided prominently on their homepage. Average consumer results are provided, and the company maintains active social media accounts.
We've identified a few distinct advantages for customers signing up with Ovation Credit:
Customization. According to their website, Ovation Credit states, "you can add other custom options to further sculpt our services." This is a unique feature not typically seen with other credit repair services.
Same-day service. The company offers an expedited, 'same day service' for individuals looking to improve their credit. The company claims they will expedite the process of dispute letters so they reach the appropriate bureaus the same day of sign-up.
Identity Optimization feature. Ovation Credit's optimization feature allows customers to protect themselves from identity fraud while simultaneously improving their credit. This feature comes with a detailed analysis for each credit bureau report. It also provides for unlimited custom disputes for correcting identity theft issues.
What We Don't Like About Ovation Credit
Ovation is a fairly new credit repair company. The firm simply doesn't possess the comparable longevity and established reputation some of their competitors boast.
An education system for DIY credit repair is not available for customers, unlike the options other credit repair companies tend to feature on their websites.
An exhaustive list of 'disadvantages' one could face when signing up with this company may not be possible.
However, there are a few areas of potential improvement we can note:
Add an educational resource portal. This will help customers who wish to continue their period of learning after they sign up with the website. Although there are resources for this type of learning on the site, they are not easily available.
Feature customer reviews. This will help add more reassurance for potential customers.
What About Ovation Credit's Reviews?
In our research, Ovation Credit's reviews are primarily positive. A small number of customer feedback registered negatively.
Reviewers claim they received exactly the services they paid for, and enjoyed being able to adjust the website's customizable purchase options to suit their preferences.
Alternatively, some users reported they did not receive the services they originally expected. This is a common issue among credit repair companies. No matter what firm you choose to work with, you're going to find previous customers who were not entirely thrilled with their results.
When to Use Ovation Credit
The best time to contact Ovation would be when you are confronted with any host of credit problems.
Some examples of when it would be wise to work with Ovation Credit would be:
You would like a free credit consultation with a professional credit analyst
You're seeking to repair your credit
Advice needed about credit repair
You'd like to improve your credit score (but, remember, companies can not promise an increase in your credit score)
You are unsure of where you stand credit-wise
What Can Be Removed From Your Credit?
Ovation will work to remove whatever can legally be removed from your report.
These include negative & inaccurate:
late payments
liens
credit inquiries
Note: Only false, duplicate, expired and/or fraudulent entries may be removed from your credit report. This goes for all credit repair firms – not just Ovation.
How Does Ovation Credit Repair Your Credit?
Once they've identified your points of concern in your credit report, and decided which negative items they wish to dispute, Ovation's legal team immediately gets to work.
Ovation encourages flexibility. This allows customers to contribute additional effort, such as writing a letter to the credit agency.
How Much Does Ovation Credit Cost?
Ovation Credit offers two plans called the 'Essentials Plan' and the 'Essentials Plus Plan.'
The Essentials Plan requires an $114 payment for the 'first work fee.' This is in addition to a recurring $69/monthly payment that can be cancelled at any time.
This plan also comes with the option of adding Fast Track and Identity Optimization, which cost $25 each.
The Essentials Plan allows customers to have personalized dispute options, a personal case adviser, 24/7 access to the customer's case status with live updates, and access to Ovation's online dispute service.
The Essentials Plus Plan requires the same $114 'first work fee.' This in addition to a recurring payment of $99/monthly that can be cancelled at any time. Fast Track and Identity Optimization are again available as add-ons for $25/each.
The Essentials Plus Plan allows customers to have unlimited challenge validation, unlimited creditor goodwill letters, an official ovation recommendation letter upon request, and TransUnion Credit monitoring. The 'Essentials Plan' features are also included within the Essentials Plus Plan.
What to Expect When Signing Up
After a customer signs up and selects the appropriate plan, they will be prompted to send their Experian credit report.
Ovation Credit handles the burden of retrieving the TransUnion and Equifax Credit Summary reports. Ovation then imports the reports into your case file during your initial signup.
Afterwards, the 'Dispute Manager' feature is activated. At this point, Ovation Credit will ask the customer a series of questions before the company gets started.
What Results Can You Expect From Ovation Credit?
Like most reputable firms, you should expect to see negative items removed from your report (when applicable), and hopefully see your credit score increased (but, again, be wary if a company promises a credit score increase).
You can also expect to exit the program substantially more knowledgeable about the credit repair process than you were prior.
Company Background
Who is Ovation Credit?
Ovation Credit is a credit repair agency, founded by attorney Terry D. Cordell in combination with other like-minded attorneys.
All attorneys on staff have extensive experience dealing with credit repair issues prior to becoming a member of the Ovation Credit team.
Together, Ovation formed with the goal in mind of assisting individuals with fast, effective and legal credit report repair resolutions.
Since their inception, the company boasts they have successfully helped repair credit for thousands of individuals.
Who Owns Ovation Credit?
Terry D. Cordell.
Where is Ovation Credit located?
Jacksonville, Florida.
Frequently Asked Questions
Does Ovation Credit Offer a Guarantee?
Yes. Ovation Credit promises their customers 100% satisfaction. They state if they fail to repair a customer's credit or perform the services agreed upon in a given month, they will not charge the customer for that month.
Is it Possible for Deleted Items to Reappear on Your Credit Report After Working with Ovation Credit?
Yes, it is always possible deleted items will reappear on one's credit report even after having been successfully removed. This is because creditors will sometimes re-report issues due to error or unethical practices.
However, Ovation Credit has pledged to continually monitor one's credit even after the negative credit items have been deleted (so long as you remain a paying-member).
This provides their customers continued protection against future problems and reappearing items.
How Long Does it Take Ovation Credit to Repair Your Credit?
The length of time can vary substantially due to the uniqueness of every customer's situation.
Customers should still expect to see some form of results within the first 90 days.
Is There a Couples, Family or Active Military Discount?
Ovation offers a few discounts:
If a customer leaves another credit repair agency to join Ovation Credit, they will give that customer $50 to apply as a credit towards their membership dues.
20% discount for couples.
10% discount for military service members.
10% discount for seniors, aged 65 or older.
What Are Ovation Credit's Hours?
Ovation's hours are 24/7.
What is Ovation Credit's Phone Number?
Direct Access Numbers:
Free Consultations – 866-639-3426 ; option 3
New Client Sign-Up By Phone – 866-639-3426; option 2
Existing Client Support – 866-639-3426; option 2
How do you cancel your membership with Ovation Credit?
You can cancel your membership by contacting Ovation via web or phone.